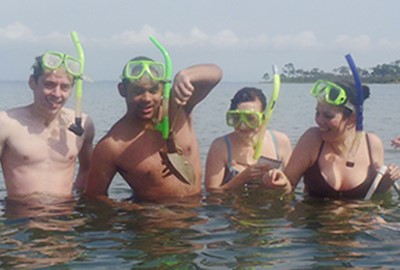 FSUCML is the Perfect Spot
for extended stays for research, field-oriented courses, or institutional meeting, workshops, or departmental retreats. We can help you design the perfect field day for K-12 students or a week long program for undergraduates.
Whatever your organization -- university department or office, state or federal agency – and whatever your goal – conducting research, teaching a course, or holding an annual retreat or workshop for strategic planning, budgeting, team building, or problem solving – the FSUCML offers a broad range of facilities for your use, including dormitories, an auditorium, conference room, classrooms, laboratories, and greenhouses,
To learn more about available space and rates or to make reservations, visit our webpage here. Consider including an "Edge of the Sea" walk with our resident naturalist to learn about coastal critters. We can also arrange to have your event catered. Just let us know.
Making requests as far in advance as possible is a good idea. If you want to visit the lab ahead of time, schedule a tour by calling (850) 697-4120 or email fsucml@fsu.edu. We look forward to seeing you!
About Us
How to Donate to FSUCML
---
Last Updated: Sunday, February 24, 2019 at 8:20 PM