2015 Regatta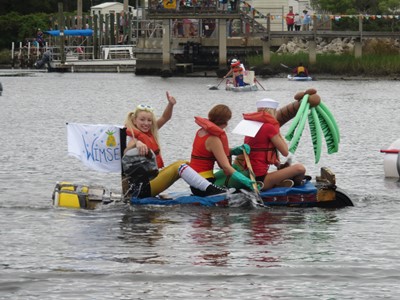 The 4th Annual Whatever Floats Your Boat Regatta was a big success! Those who attended the regatta at the Florida State University Coastal and Marine Laboratory (FSUCML) had a ball watching all the whacky, creative vessels sailing in the boat basin. For those who don't know, the Whatever Floats Your Boat Regatta is a recycle-themed event where participants create vessels entirely out of recycled materials and sail them through a set course in the FSUCML boat basin.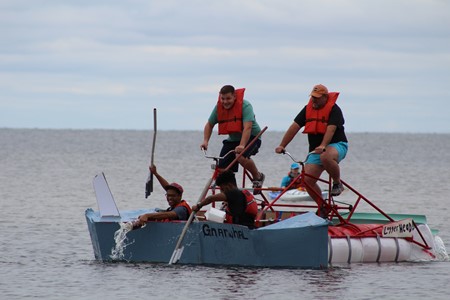 This year, we had a record number of boats sail in the race (16), with groups representing Leon, Franklin, and Wakulla counties. We had some truly inventive and colorful vessels this year. This made it very difficult for our honorable judges to choose the winner for the Most Creative Use of Materials award. However, they settled on the Trash Trawler, captained by Anni Ross, as the winner. Anni found all of the materials used to build her boat during the International Coastal Cleanup Day. First to cross the finish line was BEARLY Floatin, built by Wakulla County Riversprings Middle School. Riversprings Middle School also took home the People's Choice Award. They were first time competitors but certainly looked like pros! Last but not least, the Gnarwhal, built by FSU Department of Art, took home the Titanic Award for the Most Spectacular Failure because although their boat was slowly sinking, they fought until the bitter end until they were forced to jump ship. Each winner took home a trophy, also made out of recycled materials. This year, we also added ribbons for 2nd, 3rd and 4th fastest times. Those awards went to (in place order) The Kentucky Gentleman, built by FAMU-FSU Society of Women Engineers; the kNOTical Pirates, built by FSU Campus Sustainability; and The USS DTS, built by Diesel Truck Services. Congratulations to each of our prize winners and to everyone who came out to race!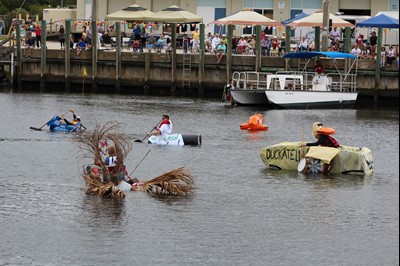 We have so many wonderful people who help make this event a success. We would like to thank our honorable judges, Bryce Hill, Peter Marxsen, and Rhonda Work; and our Master of Ceremonies, Kathy Houck. We would also like to thank Ken Beattie and his team for providing music and sound effects for the event, and The Coastal Restaurant for providing delicious food for participants and spectators. A special thanks to our sponsors, Bay Leaf Market, Earth Fare, Franklin County Tourist Development Council, Florida Board of Professional Engineers, Marpan Recycling, Waste Pro, West Marine, Ring Power, and Angie's Marine Supply. And finally, a big thank you to the FSUCML staff and volunteers who work so hard to make this event fun and safe for everyone.
We are already looking forward to the 2016 Whatever Floats Your Boat Regatta, set for Saturday, September 24th from 12PM-3PM. Mark your calendars and get your boats ready!
---
Last Updated: Wednesday, August 2, 2017 at 5:22 PM