2016 Regatta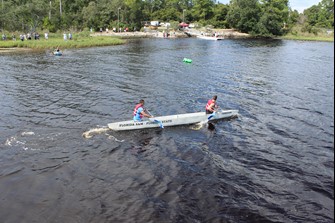 Our 5th annual Whatever Floats Your Boat Regatta was a "scrap"-tacular success! The regatta was held at the Florida State University Coastal & Marine Lab (FSUCML) located in scenic, St. Teresa, FL with 175 people in attendance. It is unique in that the contestants must design and build their boats out of recycled materials. The goal of the event is to educate and showcase the various ways we can repurpose materials that would normally be thrown away.
As the 12 boats lined up for the start of the race, everyone eagerly watched and pondered: "But will it float and for how long?"  However, that's not always the point, which is why one of the most popular awards is the Titanic Award for Most Spectacular Failure. First to cross the finish line was Cenotaph, a 250-lb concrete canoe built with limestone and rain water by the FAMU-FSU College of Engineering. In addition to their trophy, the crew received a magnificent gift basket generously donated by the Naumann Group. Second place went to SWE's Revenge made by the Society of Women Engineers. Third place went to Bringing Plexi Back made by the American Society of Mechanical Engineers. Not all contestants represented organizations, two families teamed up together to make the boat titled Pool Liner, which won fourth place and was awarded the prize, Most Creative Use of Materials. The Newhall & Bates Families truly captured the spirit of the event by repurposing everyday household scraps (pool liner, an old door, excess fencing and wood) to make their boat. The People's Choice Award, where attendees got to vote for their favorite, went to the Boy Scouts, whose boat was made from an old, retro-style bathtub, aptly named Rubadub. The Titanic Award went to Craig's Revenge, made by FSU's Office of Proposal Development. After the wind blew them even further behind the starting line, the boat finally capsized, but the pirate-clad crew kept their cool and remained smiling the entire time.
The spectators had a blast watching these quirky boats compete and loudly cheered for their favorites. A first-time attendee stated why he enjoyed the recycled-boat regatta: "All the boats look so unique and it's fun to see what materials people come up with. I never thought I would see a bicycle trying to propel a boat. It inspires you, creatively, and I definitely want to come back next year and compete!" Attendees also enjoyed delicious, local seafood provided by Posey's food truck and were able to participate in a raffle to win a HUGE prize donated by Ring Power: a 65-qt, Elite Pelican cooler - perfect for tailgating!
There were many people who contributed to the success of our WFYB Regatta: our honorable judges, Peter Marxsen, Jim Muller, and Rhonda Work; Master of Ceremonies, Kathy Houck, whose commentary before and during the race was a delight to all; FSU Executive Sound, who did a fantastic job providing the perfect "beach-y" soundtrack to the day's events. Our FSUCML volunteers and staff were incredible and helped make this year's regatta fun and safe for everyone.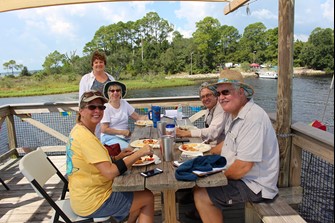 Lastly, we would like to thank our sponsors who helped make this event possible: the Naumann Real Estate Group, Bay Leaf Market, Franklin County Tourist Development Council, Marpan Recycling, Waste Pro, West Marine, Ring Power, AMS Marine Supply, and the Pearle Restaurant.
We're already gearing up for the 2017 Whatever Floats Your Boat Regatta! Think you have what it takes to win? It's never too early to start designing your boats and collecting materials. One person's trash is another person's boat for next year's regatta!
Gallery
---
Last Updated: Wednesday, August 2, 2017 at 5:19 PM