Graduate Student Spotlight
After a tumultuous, unexpected, and unusually stressful year, one of our own, Abbey Engleman, is graduating December 11th! Although all of us at the FSUCML are sad to see her leave, we can't wait to watch her flourish in the next chapter of her professional career.
---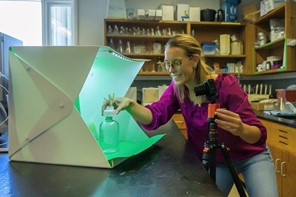 Abbey (BS, University of South Carolina) began her Ph.D. in the Ecology and Evolution group in FSU's Department of Biological Science in January 2016. Her dissertation research used reverse engineering to deconstruct coral to understand how structure influences reef processes. Using 3D technologies, she recreated coral structures to assess how structure differs between living and dead coral, as well as to test the effect of structure on vital processes such as benthic community diversity, coral recruitment, and coral settlement. Her research was funded by several prestigious grants and organizations such as National Geographic and the Explorers Club, a Smithsonian Fellowship, and the FSU Alumni Ambassador Award. She was also involved in various Diversity, Equity, and Inclusion groups within the FSU Department of Biology and National Geographic Explorers.  As for post-graduation plans, she is a 2021 John Knauss Marine Policy Fellow, starting her fellowship in Washington D.C. in February.  She will be translating science into policy within a legislative branch, most likely working in the House of Representatives or Senate.
---
Last Updated: Monday, February 21, 2022 at 2:55 PM