Congratulations to FSUCML Graduate Students – Jasmin Graham, Bryan Keller, and Barry Walton
Amidst quite a memorable and unusually stressful spring semester, three FSUCML graduate students successfully defended their theses and dissertations! Although all of us at the Marine Lab are sad to see these standout scholars go, we are thrilled to watch them fledge to grow even more in their chosen professions. So where are they headed now?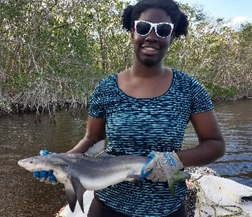 Jasmin Graham (BS, College of Charleston) started the Master's program in the Ecology and Evolution group in FSU's Department of Biological Science in the fall of 2017, bringing with her a prestigious National Science Foundation Graduate Research Fellowship. During her time at FSU, Jasmin was the FSU Ecology and Evolution Graduate Student Outreach Coordinator and Saturday at the Sea Instructor. Her research revolved around the acoustic and satellite tracking of critically endangered smalltooth sawfish, resulting in her thesis, "Analysis of Large Juvenile and Adult Smalltooth Sawfish (Pristis pectinate) Movements:  Evaluating Bycatch Risk and Identifying Critical Habitat." As for post-graduation plans, Graham is currently working at the Mote Marine Laboratory and Aquarium in Sarasota, FL, as the Grant Project Coordinator for their Marine Science Laboratory Alliance Center of Excellence Program.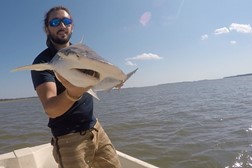 Dr. Bryan Keller (BS, University of Arizona;  MSc, Coastal Carolina University) started his PhD in the Biological Oceanography program in FSU's Department of Earth, Ocean, and Atmospheric Science in 2016.  During his time at FSU, Dr. Keller demonstrated remarkable grantsmanship, funding his research with around 20 awards including those from Sea World Conservation Fund, Save Our Seas Foundation, the Guy Harvey Foundation, the National Geographic Society, and both the FSUCML Conservation Research Award and FSUCML Board of Trustees Scholarships.  His doctoral dissertation title is, "The Spatial Ecology of the Bonnethead (Sphyrna tiburo): Migration, Parturition and Magnetic-Based Navigation." Dr. Keller is a 2020 John Knauss Marine Policy Fellow, currently working in the NOAA Fisheries Foreign Affairs department in Washington D.C.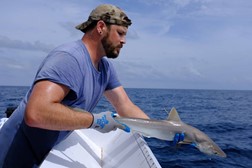 Barry Walton (BS, Mississippi College), a U.S. Marine veteran, entered the Biological Oceanography program in FSU's Department of Earth, Ocean, and Atmospheric Science in January 2018.  Walton's research focused on the spatial ecology, reproductive biology, and behavior of two species of marine catfishes, the hardheaded catfish (Ariopsis felis) and gafftopsail catfish (Bagre marinus), for which he won a Guy Harvey Scholarship.  His Master's thesis is "The Influence of Abiotic Factors on Spatial Temporal Patterns of Marine Catfishes within the Apalachicola Bay Estuarine System."  Upon graduation, he plans to continue his graduate education by pursuing a PhD, with the hopes of conducting research that revolves around either elasmobranchs, fish, or pinnipeds.
---
Last Updated: Tuesday, February 15, 2022 at 3:12 PM