Visiting Scientists & Classes
2017
Education (K-12)
Living Science Homes Studies from Woodstock, GA visited with 45 high schoolers for a coastal ecology field day here at the lab.  This field trip trains high school student leaders for a middle school expedition in which they teach marine biology, lead their groups in numerous science and engineering projects, and take charge of about 100 middle schoolers for 5 days.
Thomas University of Thomasville, GA -Division of Education faculty collaboration with local area educators from the Thomasville City and Thomas County school systems to offer students the opportunity to explore the exciting fields of Science, Technology, Engineering, and Math.  An overnight coastal ecology field trip to FSUML is part of the STEM experience for the Camp STEMtastic students.
Additional K-12 Groups Experiencing a Coastal Ecology Field day at the lab:
Oasis Center for Women and Girls – Tallahassee Florida
Cornerstone Learning Center – Tallahassee
21st Century Community Program – Tallahassee Community College 30 middle schoolers
FWC's Joe Budd Youth Conservation Camp
North Gwinnett High School, Suwanee, GA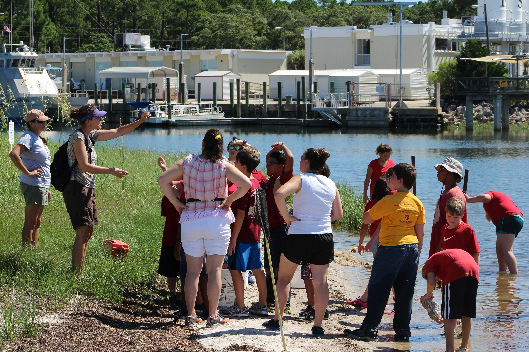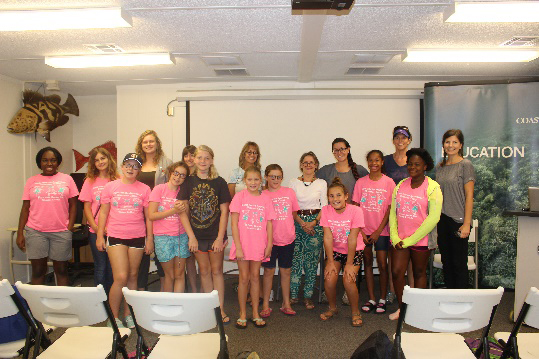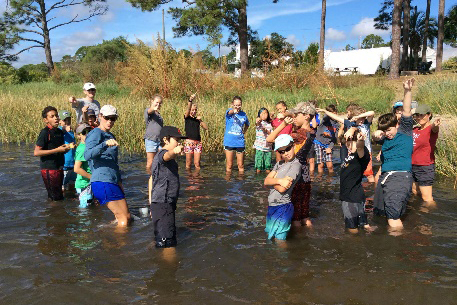 Education (University & College)
Eleven undergraduate students and their advisor Dr. Judith Nagel-Myers from St. Lawrence University in Canton, NY spent several days at the lab. They were conducting a Paleobiological field trip of the surrounding areas of North Florida.
Dr. Joel Kostka and 19 of his students form Georgia Institute of Technology for a coastal field experience for their microbial ecology class. The class used FSUCML kayaks to explore the local shorelines.
Dr. Malenthe Tenuis – Bureau Waardenburg, Culembor, Netherlands visited the lab to collaborate with FSUCML's Dr. Sandra Brooke and Katie Konchar of the Florida Fish & Wildlife Conservation Commission. The coloration is for an on-going oyster reef reclamation project located here at the lab.
Seven scientists form Old Dominion University and Woods Hole Oceanographic Institution spent two weeks at the lab using the seagrass habitats in St. George Sound for their research. Their research utilized methods for evaluating oxygen and carbon exchange combined with biomass, sedimentary, and water column measurements to develop and test numerical models that can be scaled up to quantify the dynamics of carbon cycling and sequestration in seagrass meadows in temperate and tropical environments of the West Atlantic continental margin that encompass both siliciclastic and carbonate sediments.
Dr. Chiang Shih – FAMU-FSU College of Engineering -Tallahassee, FL treated his students to an educational marsh walk with FSUCML Instructors here at the lab.
Returning Universities & Colleges:
University of Georgia – Dr. Katherine Ketter & Students
Lincoln Memorial University – Dr. Stan Kunigelis & Students
University of Louisiana – Graduate Student Trey Guilbeaux
Louisiana State University – Graduate Student Ryan Hoffman
Ohio Northern University
University of Florida - Florida Master Naturalist Program
Visiting Researchers:
FSUCML's Dr. Jeroen Ingels hosted a workshop here at the lab that drew over 30 scientists from around the world to discuss the July 2017 calving of the Larsen C Ice Shelf on the eastern side of the Antarctic Peninsula.
Dr. Claire Fox of Cornell University was a guest student of the FSU Saturday-At-The Sea Program lead by Barbara Shoplock. Claire got to experience this great marine science program for middle schoolers.
Southern Fire Exchange / University of Florida fire science held a workshop for about 30 individuals from the forestry and land management community on the science and management of duff and litter accumulation in long unburned upland forest ecosystems. The group also had a field trip to FSUCML's long leaf pine reclamation site.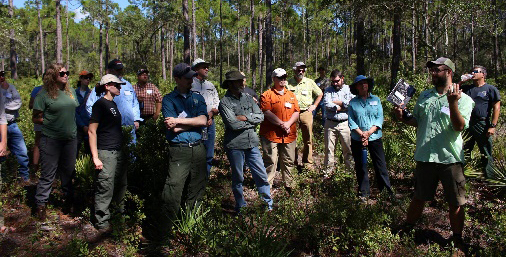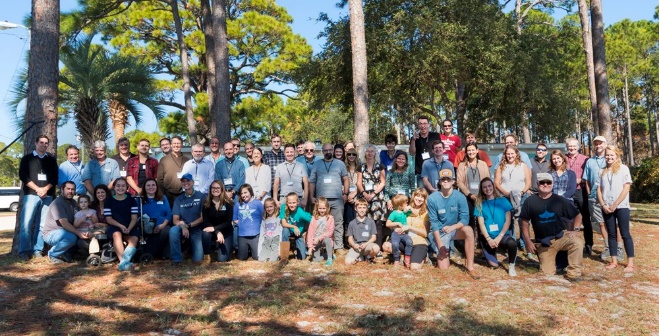 ---
Last Updated: Thursday, July 12, 2018 at 10:01 AM