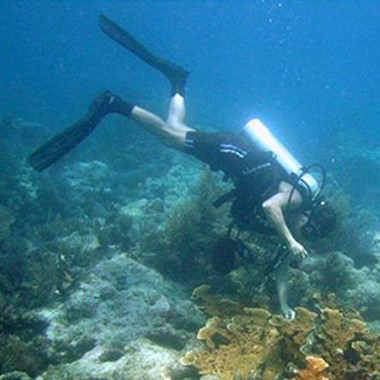 Scholarships for Diving Research
There are several scholarships available to support students who are using diving as a tool for research. The Diving Program also gives an annual award to the student who best exemplifies dedication as researcher and devotion to the FSUCML scientific diving community.
The Matt Beard Memorial Award for Excellence in Research
This special award is given in memory of Matt Beard, an FSU student who intended to devote his life's work to the conservation of corals.  Matt's research focused on coral recruitment in the Florida Keys and identified important settlement patterns.  His research was published posthumously (citation below).  The award is given to the student who embodies all that Matt exemplified as a student of marine science and as a member of the FSUCML scientific diving community.
Mason B., M. Beard, MW Miller. 2011. Coral larvae settle at a higher frequency on red surfaces. Coral Reefs 30(3):667-676  DOI: 10.1007/s00338-011-0739-
Scientific Diving Scholarships
---
Last Updated: Thursday, December 20, 2018 at 10:39 AM