Event Archives
2022 (Virtual Events)
July 28, 2022
Dr. Sandra Brooke provides an update on ABSI science initiatives.
May 3, 2022
Dr. Sandra Brooke provides an update on ABSI science initiatives. 
2021 (Virtual Events)
November 2, 2021
Dr. Sandra Brooke provides an update on ABSI science initiatives.
September 22, 2021
Dr. Sandra Brooke provides an update on ABSI science initiatives, as well as an overview of the oyster reef restoration experiments. 
February 25, 2021
Dr. Sandra Brooke explains what the Apalachicola Bay System Initiative (ABSI) is and what it hopes to accomplish.
ANERR's Virtual Symposium
February 18 - 19, 2021
1:09:19​ - Dr. Josh Breithaupt - Relating Carbon to Organic Matter in Mangrove Soils: From the Florida Keys to St. Augustine & Apalachicola Bay

Section 4: Oysters
Section 2 - Hydrology within River, Floodplain, and Bay
January 28, 2021
Community Advisory Board members Georgia Ackerman, executive director Apalachicola Riverkeeper; Sandra Brooke, FSU Coastal and Marine Lab faculty member; Jim Estes, Florida Fish and Wildlife Conservation Commission fisheries researcher; Anita Grove, Apalachicola City Commissioner; Shannon Hartsfield, 4th generation Franklin County seafood worker; and Ricky Jones, chair, Franklin County Commission joined host Tom Flanigan to talk about the Apalachicola Bay System Initiative, and what factors are impacting the loss of Apalachicola's world-famous oysters?
2019 - 2020 (In-Person Events)
OLLI Visits FSUCML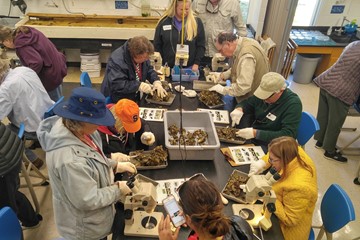 On February 29, 2020, twenty members of the Osher Lifelong Learning Institute (OLLI) arrived at the FSU Coastal & Marine Lab for a day devoted to learning about ABSI. OLLI, as you may know, is a scholarly program targeting mature adults who want to continue their education in a stress-free, no homework-bound environment.  And continue they did. We discussed ABSI's goals and the scientific questions being addressed, we took them on a whirlwind field trip to introduce them to the enormous ecological diversity of surrounding habitats, and they tried their hand at oyster sample processing. We also toured the new hatchery which will soon be ready to rear oyster broodstock and their offspring from fertilized egg to "spat" for field experiments intended to address the best means of restoring Apalachicola Bay. OLLI's overwhelmingly positive response to the day led us to agree to offer a full-length course in the coming year. This would allow us to dig deeper into the biology of oysters, the problems leading to their decline, and the research needed to pave the road to recovery for the Bay.
ABSI at the Capitol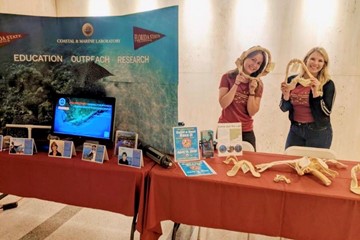 ABSI participated in two events at the Florida State Capitol in 2020:  Florida State University Day (February 12th) -- a day drenched in garnet and gold -- and Oceans Day (February 25th), which had more of greenish-blue color scheme.  FSU Day showcases FSU across the board, from the university's colleges, centers, and institutes to its athletics and arts. Maddie Mahood (R), our ABSI Outreach Assistant, and Eve Moore (L), ABSI technician, represented The FSU Coastal & Marine Laboratory quite well bringing greater awareness to the research conducted at the lab and through the ABS Initiative. Oceans Day, sponsored by the Florida Institute of Oceanography, emphasizes ocean and coastal research conducted by marine research programs at universities, in government agencies, and by NGOs across the State of Florida. The ABSI team was in its element, sharing  their excitement for our diverse and exciting research initiatives with legislators, alumni, other research institutions, and the public alike.
ABSI at the 2019 Florida Seafood Fest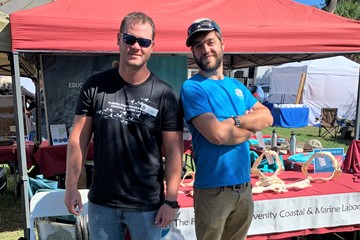 The Florida Seafood Festival, held in Apalachicola for the past 56 years, is the oldest maritime festival in Florida.  This festival has it all, from the blessing of the fleet, maritime exhibits, and music, to oyster eating and shucking contests and exhibits of arts, crafts, and science. There is literally something here for everyone. For the first time, the FSU Coastal & Marine Lab opened a booth at the festival for two days running -- November 1st and 2nd -- to bring the lab to the crowds.  The exhibit developed by the FSUCML staff, including the ABSI team, provided an opportunity for the public to learn about sharks, grouper, and oysters, dive into the goals of ABSI, and grab a moment for face-to-face chats with ABSI scientists. Those of us in the booth even found a little time to visit other exhibits and admire some extraordinary woodworking and metal arts and wares. Stay tuned for the next one, scheduled for November 6th and 7th, 2020.