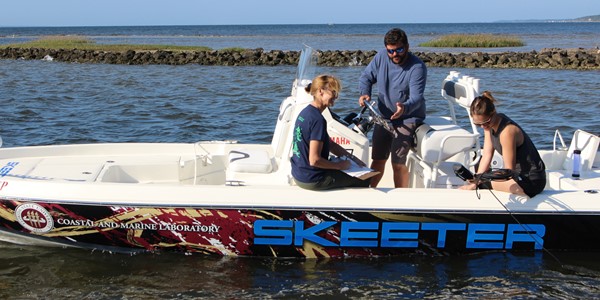 ABSI Oytser Research Update
FSUCML's Head of Marine Operations, Captain Matt Edwards, Marine Technician Eve Moore, and Dr. Sandra Brooke collect data on water quality in one of the Apalachicola Bay System's study sites
Deploying a handheld YSI Multiparameter Water Quality Meter, the team visits and array of sites collecting salinity, dissolved oxygen, temperature, conductivity, pH, and turbidity data that can be downloaded to computers and used to develop biophysical models necessary to forecast how bay conditions will affect oyster productivity. In addition, we will sooon deploy YSI Exo sonde data loggers that collect data every 15 minutes. While the handheld YSI does not collect data as frequently, it allows us to fill in spatial gaps since the Exo sondes, practically speakig, will not move once they are put in place. The ABSI research team uses the compiled data to help determine the conditions that contributed to recent dramatic declines in oyster populations compared to those conditions that are optimal for oyster survival and reproduction. 
We know that environmental factors play an important role in the health and well being of oyster populations. When optimal, they cue oysters to spawn when food is available to support rapid growth. However, when conditions are poor, they can lead to stunted growth, higher rates of predation, and greater vulnerability to disease, among other things (see slides on oyster ecology and ABSI research update). With this knowledge, the team will develop a spatially explicit oyster population model that will be used to evaluate management and restoration options under different environmental conditions.   
These factors are not the only  things affecting oyster survival. Other pressures include overharvesting (which leads to habitat loss, since oyster reefs serve as critical habitat) and, as we are learning now, climate change. The focus of ABSI is to determine the suite of pressures that led to decline and to develop methods for restoration and management that will result in a more resilient and sustainable ecosystem. 
This research was recently enhanced by the acquisition of a new research vessel (pictured above), donated to FSUCML by Yamaha Rightwaters and Skeeter Boats. Yamaha Rightwaters, launched on World Oceans Day 2019, champions marine stewardship in many forms. They were drawn to FSUCML and the Apalachicola Bay System Initiative by its focus on ecosystem recovery and have proven to be excellent partners. 
Learn more about ABSI by exploring the research components below.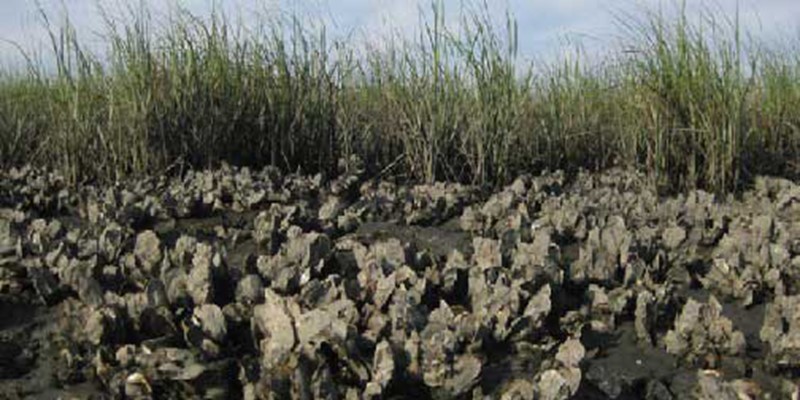 Collapse of oyster reef systems is a global phenomenon, with less than 20% of the world's reefs remaining (read more about this in  Beck et. al. 2011). The causes are complex, and include interactions of poor coastal management, over-harvesting, habitat destruction, and poor water quality.
Before we can generate effective restoration and management plans, we have to understand what went wrong, and try to address the underlying problem.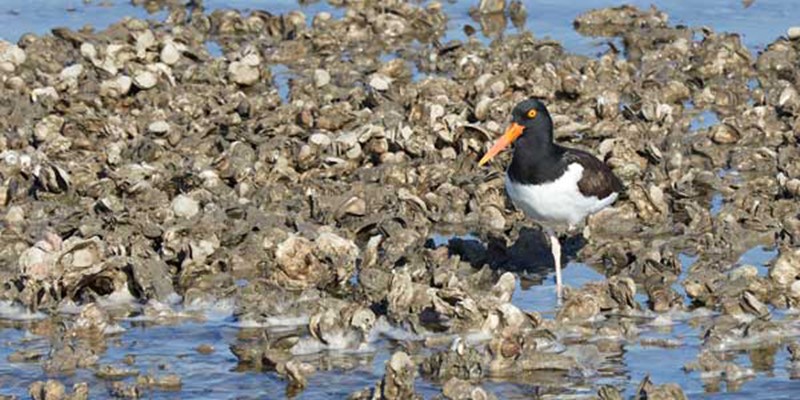 Ecosystem recovery is limited by nature's ability to rebuild. Depending on the system, it may take decades.  While oysters grow quickly, the  massive reefs that they form that support lucrative fisheries & protect our shorelines develop slowly.
Oyster reef ecosystems provide valuable ecological and economic services. If we protect and care for them, they will continue to provide these services far into the future. If we do not, we risk losing them forever.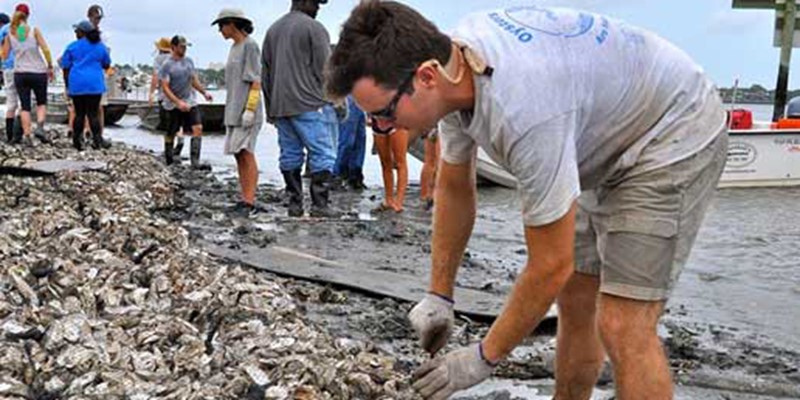 Successful ecosystem recovery requires a deep understanding of the causes of collapse. This is accomplished with extensive research and monitoring, and a long term plan that includes adaptive management and habitat restoration. 
ABSI data will be made available to the public, and through a collaborative process, an oyster management and ecosystem recovery plan will be developed. See here for the full ABSI proposal. 
---
Last Updated: Thursday, June 18, 2020 at 12:14 PM