Training for the Mobile Hatchery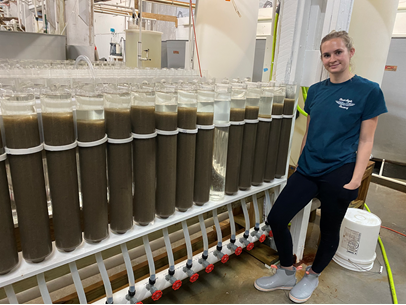 Earlier this year MSc. student Morgan Hawkins and hatchery technician Benton Jaco visited Gwynn's Island, Virginia where they trained to operate an experimental "mobile hatchery" developed by Mr. Michael Congrove of Oyster Seed Holdings (OSH) and Dr. Standish Allen (Virginia Institute of Marine Science). These units are an experimental approach to oyster aquaculture that miniaturize a commercial hatchery by using innovative techniques that can be housed inside a semi-truck trailer. The trailers are less expensive than building a conventional hatchery, can be placed where environmental conditions are optimal for oyster production, and can be moved out of harm's way during extreme weather events such as tropical storms or hurricanes. The Florida State University Coastal and Marine Lab is hosting the mobile hatchery for the next two years as a test location, with the objective of refining and optimizing production techniques for this area.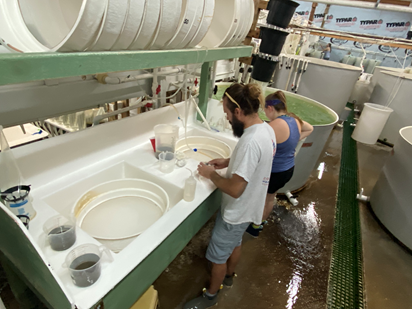 Each day of this week-long training focused on a particular system with an OSH team member.  On Monday, OSH staff member Gretchen Davis trained Benton on how to use and maintain high density oyster seed bottles. Over the next two days, algologist (one who studies algae) Haley Uliasz, taught them on how to inoculate, maintain and operate the algae systems used to feed the oyster larvae and seed. Toward the end of the week, Morgan and Benton were educated on the methods of broodstock conditioning, oyster spawning techniques, gamete fertilization, larvae cultivation, and larval storage by OSH aquaculturist Scott Dinning and hatchery manager Kasey Balderson. To round up the week, Michael Congrove and Research and Development team members Sam Glover and Stan Allen made sure to delineate the key differences between the mobile hatchery and Oyster Seed Holdings primary hatchery where the training occurred. 
Benton and Morgan would like to thank FSU for the great training opportunity and extend a HUGE thank you to the entire OSH staff – all of whom they hold in high esteem. Gretchen Davis, Scott Dinning, Haley Uliasz, Kasey Balderson, Sam Glover, Stan Allen, and Michael Congrove are all experts at their craft and provided the highest quality training.  The trainings provided invaluable education for running the mobile hatchery this summer at FSUCML, and also for future ABSI hatchery efforts to enhance production and improve spawning survival percentages. This in turn, will assist ABSI with their ongoing research of restoration techniques using aquaculture.   
The Mobile Hatchery Arrives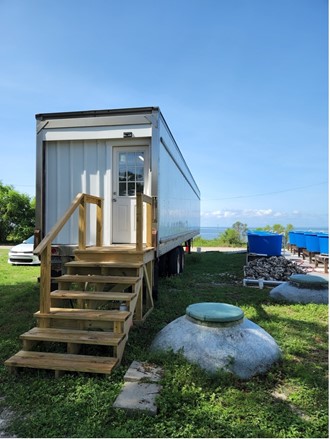 The mobile hatchery arrived February 25th and the ABSI team readied it for production this summer! This is a fully functional hatchery contained within the back of a 53' 18-wheeler trailer.  This includes algae production, water filtration, larval tanks, setting tanks, and environmental control. The hatchery is at FSUCML as part of a feasibility study to assess the usability of the mobile hatchery in remote locations. The purpose of this is to establish if this hatchery can be adequately utilized by a technician with one week of training and what obstacles (if any) must be overcome before the hatchery can be employed in such a fashion. Furthermore, production rate, employee hours, algae production and larval mortality will all be tracked to provide information on mobile hatchery feasibility
Every day our ABSI hatchery technicians check algae health by checking pH, performing algae counts, and facilitating algae growth through algae transfers. The team also takes care of larval oysters (feeding, water change, health inspection, measuring growth) and every week they perform a new spawn to produce more larvae. Unfortunately, at this time, they have not been able to successfully raise larvae to metamorphosis due to water quality issues. . Until its resolution, additional mobile hatchery responsibilities such as setting the larvae and caring for single set seed in bottles have not yet begun.  However, they do still take care of the adult oysters to use as future brood stock, and they continue to keep up with regular hatchery maintenance like maintaining the algae cultures, washing filters and algae lines. 
The production capacity of the mobile hatchery has yet to be assessed.  However, in perfect conditions and with perfect operation, the mobile hatchery could theoretically produce around 2 million (1mm in size) single set oysters per week.  This has yet to be tested and is one of the aspects which will be assessed this summer. For questions or more information on the hatchery, please contact Benton Jaco at bjaco@fsu.edu or Michael Congrove at msc@oysterseedholdings.com.