OysterCorps Interns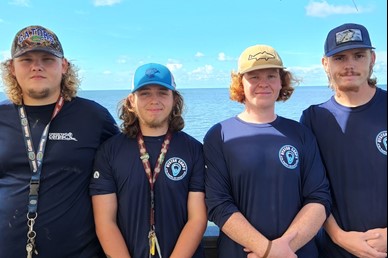 The ABSI oyster hatchery team is excited to welcome our hatchery interns for the summer. Four of our interns are from the OysterCorps which is a specialized branch of the Franklin's Promise Coalition and the Conservation Corps of the Forgotten and Emerald Coasts. Elijah Mathes, Landen Millender, Hayden Mock, and Austin Taunton are all young adults local to the Franklin County area. Through their internship this summer, they will be an integral part of the oyster hatchery's production season.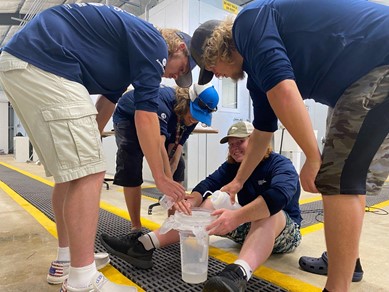 Throughout this summer, these interns will be trained in all aspects involved with oyster production and aquaculture. This process begins with the collection, selection, and care of broodstock oysters from Apalachicola Bay, where they will learn the importance of husbandry to culturing animals. Additionally, they will be a part of the spawning process of adult oysters to produce larval oysters. Here they will learn to sex animals, isolate gametes, and fertilize eggs. Finally, senior staff will train the interns to care for larval oysters and facilitate the setting process, which produces spat. The interns will be trained to perform drain downs, grade size classes, and determine if larval oysters are viable to settle. The spat they help produce will be used for restoration experiments run by ABSI.
In addition, this summer the interns will participate in a seminar series focused on introducing the interns to the diversity of careers in aquaculture. The ABSI hatchery team will host professionals from biologists and researchers to managers and industry farmers who will speak about their career paths in aquaculture, and the interns will have the opportunity to directly interact with these professionals about their work and careers.
So far, the interns' favorite part of the job is assisting with the spawning and fertilization for larval oysters, however, they are excited to continue learning about oyster production in a hatchery. By the end of the summer, we hope the interns will have all the skills necessary to continue in an aquaculture career if they choose a career in this field.