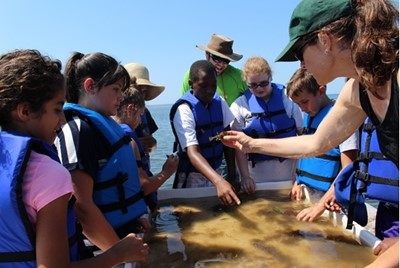 Field Trips
The Lab welcomes visiting groups of students of all ages to learn more about this unique coastal environment. Let us plan the perfect field trip for you and your group.
The Florida State University Coastal and Marine Laboratory welcomes student groups to experience our coastal environment – an environment that is remarkably pristine, very unlike the more developed areas to our west and south. We find that providing the hands-on experiences central to field trips increases student awareness of these habitats, their importance to ecosystem resilience, and the need to support their protection. 
Our staff will work with you to customize your experience to fit your group's size, time line and budget. Trips can be half day, full day, or even include overnight stays. 
Students we can accommodate range from those in middle school to adults of any age. For middle school students, we require that the group leader provide one chaperone for every six students and for high school students one chaperone for every 10 students. 
Questions or ready to schedule a field trip? Contact us at degilbert@fsu.edu or 850-697-4120.
Education
Need Something?
---
Last Updated: Thursday, August 2, 2018 at 2:06 PM