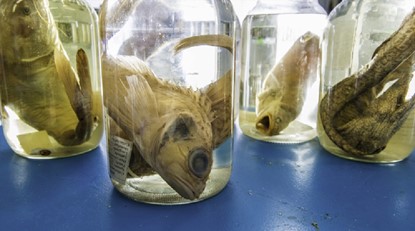 The Zoological Collection
provides a wonderful way for us to promote teaching and collaborative research in marine and coastal ecology, biodiversity, and conservation across the university, the state, and the nation.
The FSU Coastal & Marine Laboratory collaborated with Integrated Digitized Biocollections (iDigBio) to publish online the FSUCML's entire inventory of preserved research specimens in the FSUCML Zoological Collection, making it freely available to the public. iDigBio is the National Resource for Advancing Digitization of Biodiversity Collections (ADBC) funded by the National Science Foundation. Collaborators include scientists at the University of Florida, the Florida State University, and the Florida Museum of Natural History.
The FSUCML Zoological Collection is home to a diverse array of preserved fishes, including local freshwater and saltwater species of the Florida Big Bend and Panhandle regions and deep-water fishes throughout the Gulf of Mexico. The intent of the Collection is to promote teaching and collaborative research in the areas of marine and coastal ecology, biodiversity, fish biology, and resource conservation. The Collection is currently used by FSU faculty and students, visiting scientists, and visiting school groups.
As the collection grows, updates will appear on the online inventory page. This will include specimen photos and an inventory of marine invertebrates. In the meantime, we encourage you to tour the FSUCML Zoological Collection at our iDigBio collection page by clicking here.
Conducting Research Here
Collections & Data
---
Last Updated: Monday, August 12, 2019 at 4:56 PM