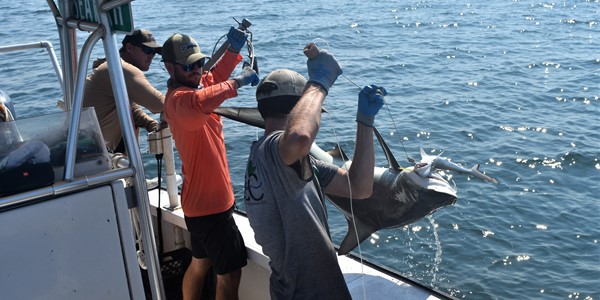 Our Mission
Our mission is to conduct innovative, pioneering, interdisciplinary research on coastal and marine ecosystems, to mentor the next generation of problem solvers, and to leverage scientific outcomes and expertise through engagement with stakeholders to optimize marine management and conservation
Our vision is to become a leader in conducting and supporting exceptional research that advances marine ecosystem science and conservation, addressing questions that are local to global in scope, range from the molecular to the ecosystem in scale, and involve the human communities within which the marine laboratory is embedded.  We will continue to build a comprehensive team of passionate scientists and staff who appreciate the regional pristine environment and support the collaborative nature of the lab.
Research is conducted by faculty, postdoctoral associates, graduate students, and undergraduate investigators from the FSUCML, from the main campus, and from other universities throughout the world. We have strong ties with scientists from the Florida Fish and Wildlife Conservation Commission, NOAA Fisheries, the Apalachicola National Estuarine Research Reserve, and the St. Marks National Wildlife Refuge, as well as with a number of environmental organizations, including the Nature Conservancy, the Apalachicola Riverkeeper, and the Pew Charitable Trust.
The laboratory welcomes investigators and educational groups from all over the world, and provides a wonderful site for working retreats. Read about our facilities and marine operations, and then make your reservation.
The FSUCML holds active memberships in the following organizations:
---
Last Updated: Tuesday, January 12, 2021 at 2:24 PM