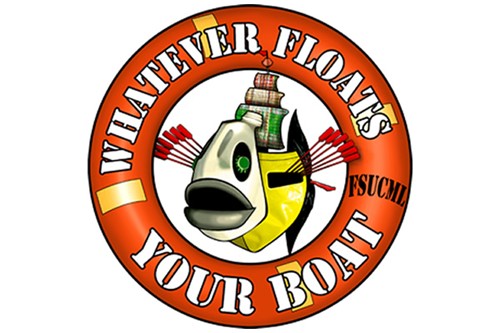 The 6th Biennial WFYB Regatta April 18, 2020
It's time once again for you to challenge your friends, your family, and your colleagues to build boats out of stuff that any normal person would take to the dump and enter them in the Whatever Floats Your Boat Regatta at the Florida State University Coastal & Marine Laboratory.
Boats can be as artistic or as whacky as you want to make them. Just build 'em and they will float . . . more or less.
Think you're up for the challenge? Grab your crew, and start designing your vessel. Just remember to select your race category upon registration.
You landlubbers will be busy ashore cheering on the captains and crews of these outrageously constructed vessels as they sail, row, or scull around the course, topple over, or slowly sink into Apalachee Bay. Watch the Regatta from various shoreline vantage points around the lab on either side of the boat basin. Enjoy good food, have loads of fun, all while learning about recycling and how to reduce the impact of plastics in our marine environments.
Rules for Boat Construction
The rules are simple and apply to all entries:
All boats must be constructed of materials that have been previously used (that is, nothing new except duct tape) for anything except for a boat
All boats must be propelled either by poles, self-made oars, self-made paddle wheels, or sails made out of material not intended for sails --or any combination thereof. Keep in mind that the race course ranges between 10-15 feet deep from the east bank, center, and west bank.
All boats should be less than 20 feet long
All boats must have a readily visible name that appears either on both sides of the bow or on the stern
Acceptable Previously Used Materials:
Cardboard and wood
Plastic bottles and metal Cans
Duct tape, twine, and rope
Cloth, including burlap bags
Chairs, dolls, feather boas, mannequins – no kidding
Unacceptable Materials:
Parts from "real" boats, including old boat hulls – commercial or recreational, boogie or surf boards, real rudders, engines, sails, oars or anything else actually used on a boat.
Material that could easily break off your boat and float away (e.g., Styrofoam packing peanuts)
Containers that held pollutants, harsh chemicals, or other potentially hazardous powders or liquids
Potentially dangerous objects (e.g., sharp edges, rusty metal, or anything made of glass)
Paint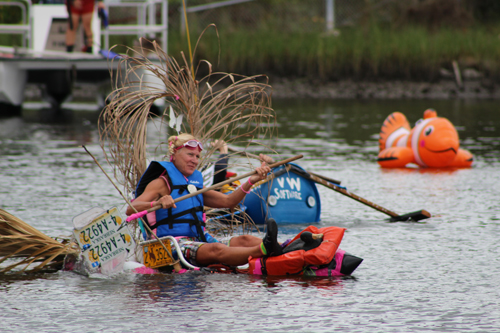 NOTE: All materials on the boat must be securely fastened so that no loose objects fall off into Apalachee Bay during the regatta. If any piece of your boat falls into the water, it is your responsibility to retrieve it.

It is the racing crew's responsibility to "leave behind no trace" of their boat. Whatever you carry in, you carry out.
Rules for Safety
All captains must be at least 18 years of age*.
All crew must be at least 12 years of age.
All captains and their crew members MUST wear U.S. Coast Guard Approved life vests (not that we don't trust your shipbuilding abilities) and closed toed shoes. No flip flops
No swimming, pushing, or towing and no attaching any parachutes to the stern of someone else's boat.  Not that anyone would actually try that. 
Gates open to participants at 10:00 a.m. on the day of the regatta. We expect all boats to be at the FSUCML waterfront by 10:30 a.m. The judges will inspect the boats before the race begins to ensure compliance with the construction and safety rules. After all inspections are complete, the Master of Ceremonies will explain the race course.
Prize Categories
*Note - FSUCML Staff & Family are welcome to race but are not eligible for prizes
First boat to cross the finish line in the regatta
Most creative use of materials
Titanic Award for the most spectacular failure
People's Choice
Register Online or Download the Registration Form
Download the Waiver of Liability Form Here
Download the photo releases:
Adult Photo Release
Minor Photo Release
Questions? Contact fsucml@fsu.edu
---
---
Last Updated: Thursday, February 20, 2020 at 3:22 PM