The 2nd Annual Whatever Floats Your Boat Regatta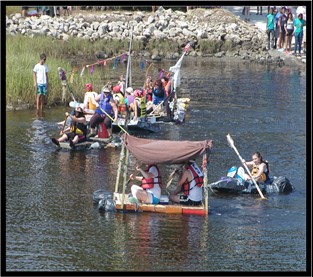 The 2nd Annual Whatever Floats Your Boat Regatta was a spectacle of creativity and ingenuity. Those fortunate enough to attend the Whatever Floats Your Boat contest at the FSU Coastal & Marine Lab were treated to a wonderful event, amazing food, music, and truly a great time. For those not in the know, Whatever Floats Your Boat invites participants to build a watercraft completely out of recyclable materials in an effort to race against other contestants to see who has the engineering prowess to take on all comers. There were some amazing "fails" which always makes for a good laugh, but many boats were well crafted and detailed, making for a great race event. There were several ways to "win", with many seeing the event as a great way to expand awareness on what is possible with creativity and some recyclable materials. This event continues to grow each year with new participants joining veterans, as over 11 "boats" were part of the contest. One boat, crafted by a team from the University of North Florida came all the way from Jacksonville to participate in the race. The Boy Scouts from Troop 8 and Crew 8 in Wakulla County, returning champions from the 2012 Regatta, were back to defend their title of Fastest Boat in the Regatta. Spectators cheered on the captains and crews of the "vessels" as they all raced toward the finish line. During the race, Michelle Gardner, our Master of Ceremonies, had a grand time narrating the antics of the teams.
Prizes were awarded in four categories: Fastest Boat in the Regatta, Most Creative Use of Materials, Titanic Award to the most Spectacular Failure, and People's Choice. Our judges, Jim Muller, Mike Marshall, and Rhonda Work had a tough time narrowing it down, but in the end only four teams could take home the "gold". The winners were Drum Roll Please and the Barrelheads for Fastest Boat in the Regatta, The Vicarious Viking Villain for People's Choice, The R/V Reporpose for Most Creative Use of Materials, and The SS ArtiFISHal for The Titanic Awarded to the Most Spectacular Failure.
Delicious local seafood was served up by Posey's and Ken Beattie and Luka Sharron's music kept the crowd in a festival mood throughout the event.
Recycling was the theme of the day, and that was evident with every boat's construction. The amazing staff at the FSU Coastal & Marine Lab also took that challenge and created the four trophies of out recycled boat materials found at local marinas, and boat shops. Thanks to Durene Gilbert, Dan Overlin, and Bobby Henderson for the spectacular and creative trophies.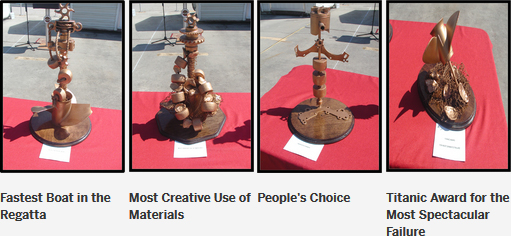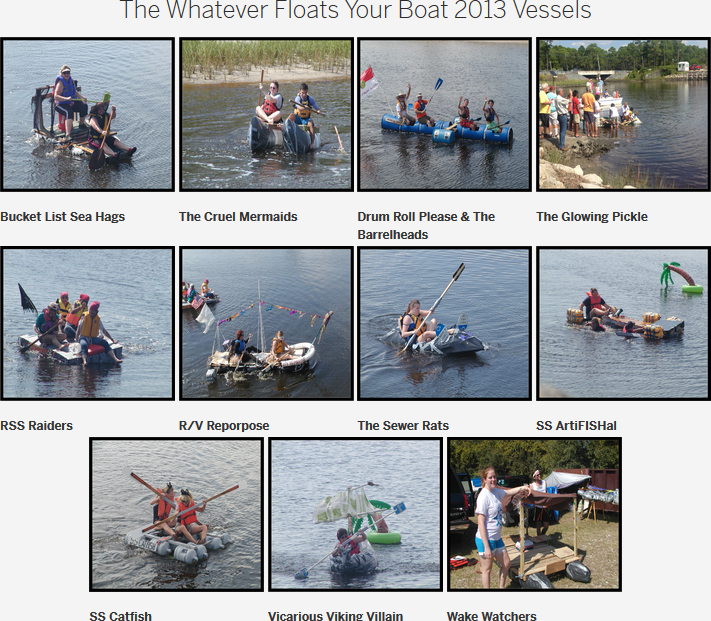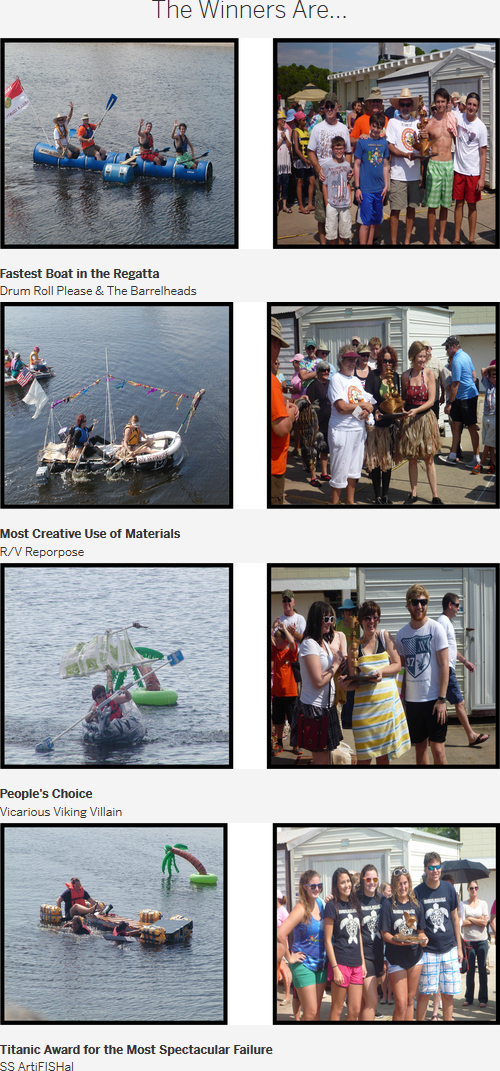 A special thanks to our sponsors: Angie's Marine Supply, Bay Leaf Market, Crum's Mini Mall, Mike's Marine Supply, Sopchoppy Pizza Company, Waste-Pro. We couldn't have done this event without you!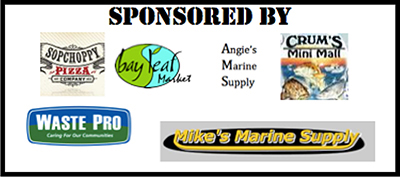 ---
Last Updated: Wednesday, August 2, 2017 at 5:32 PM