2014 Regatta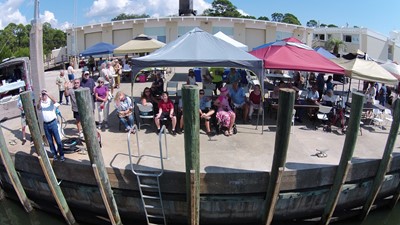 The 3rd Annual Whatever Floats Your Boat Regatta was a hit! The participants built some very creative vessels, and the observers enjoyed live music, great food, and plenty of racing fun. In case you did not know, the Whatever Floats Your Boat Regatta is an event where participants build a boat made entirely out of recycled materials, and race it in the boat basin at the Florida State University Coastal & Marine Laboratory (FSUCML). Contestants even have the opportunity to win prizes: the Titanic Award for the Most Spectacular Failure, First to Cross the Finish Line, Most Creative Use of Materials, and People's Choice.
This year was a remarkable year. Out of the 5 boats that entered the race, we did not have a single failure! Thus, this year the Titanic Award for the Most Spectacular Failure, was renamed to the Does Not Give Up Award. We had boats made a variety of different materials, from recycled political signs, to old air mattresses, to recycled plastic containers, and beyond. The Maclay Outdoor Club constructed their boat from materials they found during a coastal cleanup.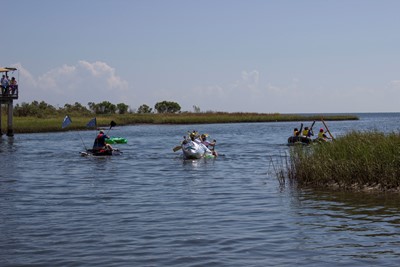 The race itself was quite entertaining. Rickards Scientific Society started to launch their two vessels, and decided to flip them upside down to race, and it worked marvelously! One boat captain lost half of her paddle as she neared the half way mark, but luckily a volunteer scientific diver retrieved it. Despite a few setbacks, every single boat crossed the finish line!
The winners this year were: Schoolaboard with First to Cross the Finish Line, RSS Rowdy 'Rauders with Most Creative Use of Materials AND People's Choice, and The Glowing Pickle with the renamed Does Not Give Up Award. The captain of Hope "it" Floats was celebrating her 40th birthday with us, so she received a birthday prize.
As recycling is the theme of the day, the trophies were also constructed out of recycled boat parts. A special thanks to Wefing's Marine for donating the various boat parts, and a special thanks to the amazing FSUCML staff, Durene Gilbert, Bobby Henderson, and Dan Overlin, for creating these creative trophies!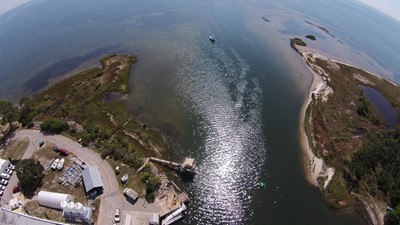 We even had a drone flying around the regatta! Natalie Geyer, operator of the drone, took some fantastic aerial photos throughout the regatta. Special thanks to Natalie for capturing these photos. Be sure to check out the Facebook album to see more of her great photos.
A special thanks to our sponsors, Angie's Marine Supply, Dazzle's Hair Salon, Gander's Gulf Supply Hardware, Shaun Donahoe Realty, Mike's Marine Supply, Sopchoppy Pizza, Coastal Restaurant, Waste Pro, Bay Leaf Market, and Amy's Promos. Their generous support makes this event possible!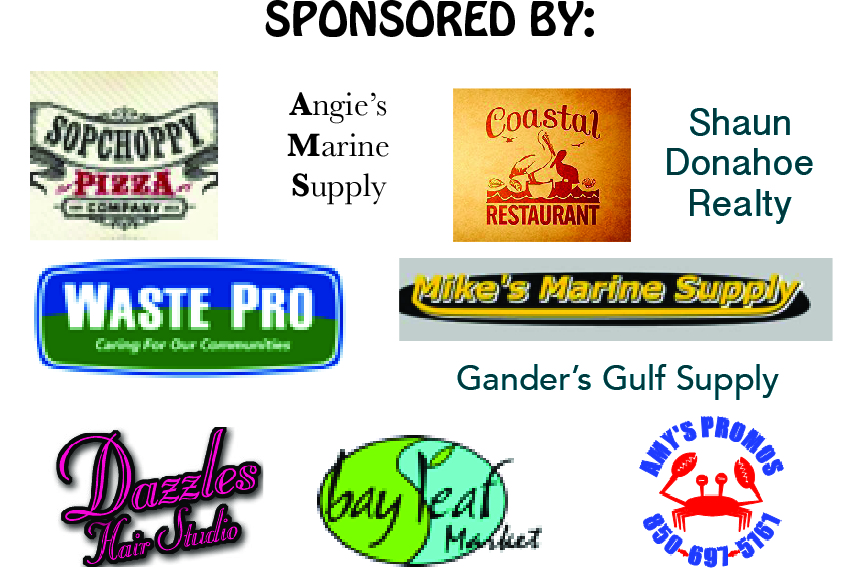 ---
Last Updated: Wednesday, August 2, 2017 at 5:27 PM