Recent FSU Graduate Co-founder of Organization for Women of Color in Science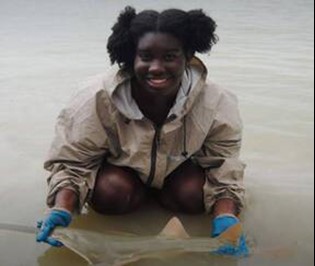 Black women in science are on the rise. Have no doubt.  They are entering fields and disciplines that were until recently largely inaccessible to them, and they are blowing down the walls (and the competition) that kept them out.  Cases in point include four young up-and-coming Black scientists who recently founded a new organization, Minorities in Shark Sciences, or MISS.  Through this organization, these women intend to promote diversity and inclusion in shark science and encourage women of color to push through barriers to create an equitable path forward in the study of marine science. 
The founders of MISS include shark researchers Jasmin Graham* (MSc Florida State University, currently MarSci - LACE Grant Project Coordinator at the Mote Marine Laboratory, Sarasota, FL), Amani Webber-Schultz (BSc Rutgers University, currently a fellow at Field School, Miami, FL), Carlee Jackson (MSc student at Nova Southeastern University), and Jaida Elcock (entering MSc student at the University of Washington) who came to the realization that there was no platform for the community of scientists that they represent -- women of color conducting marine research -- to connect with one another. 
The idea for MISS developed as a direct result of a tweet they saw on #BlackInNature hashtag hosted by @BlackAFinStem, an organization dedicated to showcasing and celebrating Black STEM (Science, Technology, Engineering, and Math) Unity.  That tweet essentially led to a tweet exchange of mutual discovery, four Black women with similar interests and experiences discovering how isolated and alone they each felt until coming together, discovering a shared passion for research on sharks, a shared vision to make the field more inclusive, and a dream to do something real for women like them.
With an offer from the Field School to bring them all together to explore ideas, the stage was set for the birth of MISS.   
"My driving motivation for everything I do," notes Graham, "is that I want to leave the world better than I found it. That's why I do conservation work, that's why I work so hard on diversity and inclusion initiatives, and that's why I'm a scientist."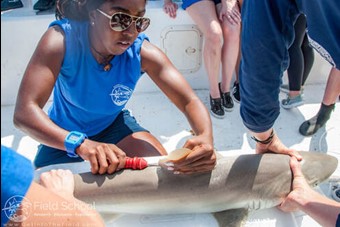 That perspective since its inception in June 2020 is what draws women of color to MISS -- including many young people interested in shark research who express gratitude for MISS and to the founders for creating this space.  Those who left shark science because of the isolation they felt note what a difference having a community like MISS would have meant to them, affecting most positively their experiences and their senses of value. To Webber-Schultz, MISS is the perfect vehicle for her to share her experiences and help others succeed in any way that she can.
In collaboration with the Field School and the Field School Foundation, MISS is offering two three-day workshops on Biscayne Bay for undergraduate female students of color to experience hands-on field research focused on sharks, hear presentations by the four founders, and engage in an open forum to discuss barriers and challenges for women of color in marine science.  The forum is an integral part of the workshop because it allows a free exchange of ideas and opinions about what it means to be a women of color in science. Elcock is particularly excited about the course and helping students light a fire within themselves to fuel their passion for marine sciences. Jackson is as well, based on a desire to expose minority students to marine science in hopes of inspiring more diversity in the field.  The Field School is donating housing to the students on the Research Vessel GARVIN, three square meals with snacks each day, and both shark tagging and snorkeling excursions with MISS offering travel awards for attendees.  While each workshop is only for a few days (March 26 - 28 and April 2 - 4, 2021), the participants will continue to receive guidance from Graham, Webber-Schultz, Jackson, and Elcock long after the course has ended. Such is their devotion. 
---
To learn more about MISS and the upcoming Workshops, visit their website here and follow them on Twitter - @MISS_Elasmo and Instagram - @miss_elasmo
---
*Jasmin Graham earned her Master of Science degree in 2020 with Dr. Dean Grubbs (major advisor, FSU Coastal & Marine Lab).  Her passion for marine conservation led her to study movement patterns of the critically endangered Smalltooth Sawfish (Pristis pectinata).  The study focused on two features: identifying nursery habitat critical for the species' survival and determining the relationship between movement and exposure risk to commercial fisheries. 
---
Last Updated: Tuesday, November 23, 2021 at 2:46 PM