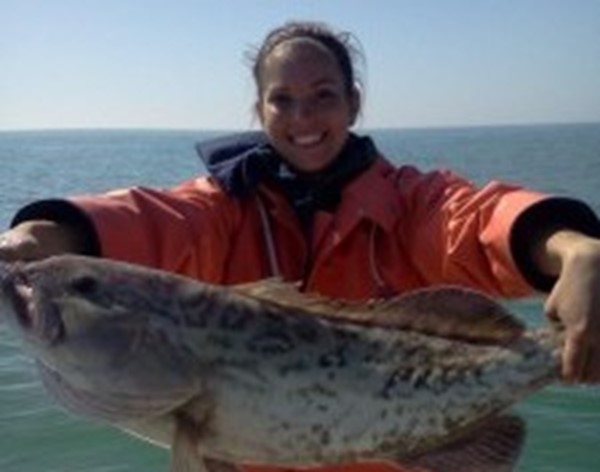 Brittany Hall-Scharf FLORIDA SEA GRANT
Brittany Hall-Scharf, FSU graduate of 2009, now works as a Florida Sea Grant Agent for Hernando County! As an undergraduate, Brittany conducted research at the FSUCML on the diet of Black Sea Bass under then FSUCML Post Doc, Dr. Chris Stallings – now a faculty member at the University of South Florida. Brittany went on to USF to work with Dr. Stallings on her master's degree, continuing her interest in the feeding ecology of marine fishes to understand marine ecosystem dynamics.
A native Floridian, Brittany's involvement in marine science is long standing. She worked at the Florida Aquarium in the Education program, at the Clearwater Marine Aquarium devoting over 500 hours to the rescue of cold-stunned sea turtles, and with Tampa Bay Watch and Suncoast Youth Conservation Center as a volunteer restoring salt marsh grasses throughout the Tampa Bay area. She also taught as an adjunct faculty member at the University of Tampa and worked as a Fishery Biologist at the Florida Fish and Wildlife Research Institute (FWRI).
As an FSU undergraduate in the Department of Biological Science, she embarked on an internship at the FSU Coastal & Marine Lab.
"I found the very topic of marine science intimidating and trying to define a project to pursue nerve-racking. The best advice I received came from Dr. Coleman who said, 'Pick something that thrills you because it's not always going to be easy. Weather won't cooperate, gear will break, experiments will go awry. Just keep at it and never stop asking questions.'"
"At the FSUCML, I opened ~100 Black Sea Bass stomachs, trying to learn what they ate and how they made a living", says Brittany. "I poured over dichotomous keys, teaching myself the terminology in an effort to figure out what the smelly mashed up contents could be. Little did I realize that the skills I learned then would prove useful when I became a fish gut analyst at the FWRI where I processed over 4,000 stomachs from various fish species throughout the eastern Gulf of Mexico."
When asked about her job with Sea Grant, Brittany said, "I never thought I would end up working for the University of Florida or Sea Grant. I'm still a Seminole at heart! But this new position is extremely exciting for me because I get to be a part of the science and work with the community at the same time. The world of science isn't so intimidating anymore! Every day, I learn something new and always, always, ask questions. That's what I look forward to the most."
Congratulations, Brittany. To learn more about her new job, check out the Sea Grant website.
---
Last Updated: Tuesday, November 23, 2021 at 2:43 PM