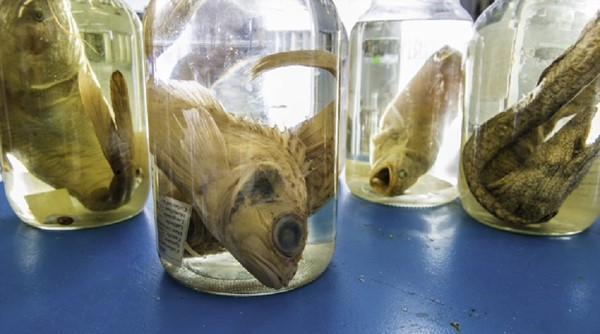 The Zoological Collection
provides a wonderful way for us to promote teaching and collaborative research in marine and coastal ecology, biodiversity, and conservation across the university, the state, and the nation.
The FSU Coastal & Marine Laboratory collaborated with Integrated Digitized Biocollections (iDigBio) to publish online the FSUCML's entire inventory of preserved research specimens in the FSUCML Zoological Collection, making it freely available to the public. iDigBio is the National Resource for Advancing Digitization of Biodiversity Collections (ADBC) funded by the National Science Foundation. Collaborators include scientists at the University of Florida, the Florida State University, and the Florida Museum of Natural History.
The FSUCML Zoological Collection is home to a diverse array of preserved fishes, including local freshwater and saltwater species of the Florida Big Bend and Panhandle regions and deep-water fishes throughout the Gulf of Mexico. The intent of the Collection is to promote teaching and collaborative research in the areas of marine and coastal ecology, biodiversity, fish biology, and resource conservation. The Collection is currently used by FSU faculty and students, visiting scientists, and visiting school groups.
As the collection grows, updates will appear on the online inventory page. This will include specimen photos and an inventory of marine invertebrates. In the meantime, we encourage you to tour the FSUCML Zoological Collection at our iDigBio collection page by clicking here.
---
Preserved Specimens -- Beyond the Jar
From the arts and activism to research, biocollections offer a unique look into the world around us.
Collapse - A Mixed Media Installation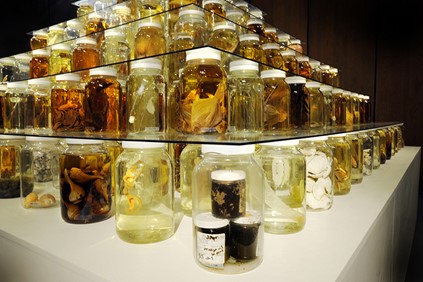 Brandon Ballengée, a Louisiana-based artist, biologist, and eco-activist, crafted a mixed-media art installation named Collapse, in the aftermath of the 2010 BP Deepwater Horizon oil spill. Collapse, consisting of 26,162 gallon jars of preserved specimens representing 370 species of fish and other aquatic organisms, according to Ballengée, " . . . responds to the global crisis of the world's fisheries and the current threat for the unraveling of the Gulf of Mexico's food-chain following the 2010 BP Deepwater Horizon oil spill.  . . . It is meant to recall the fragile inter-relationships between Gulf species. Empty containers represented species in decline or those already lost to extinction." Click here to learn more.
Photo Courtesy:  Brandon Ballengée
Where Fish are Stuck in Time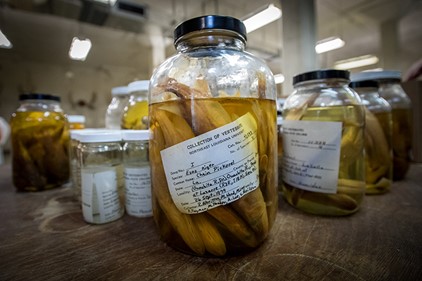 In the October 2019 issue of National Geographic, author Richard Conniff and photographer Craig Cutler reveal how the extensive specimen collection of renown fish biologist, Royal D. Suttkus, became an important and insightful research opportunity for scientists interested in global change. From the 1950s until his death in 2009, Suttkus collected specimens from the same sites on the same rivers in part as government-required environmental impact surveys. While many biologists in the past frowned upon his collecting methods, considering them unusual if not useless, current scientists view the collection as opening a "window into the past." To read the full article, click here.
Photo: Tulane University News (here) 
---
Last Updated: Saturday, September 28, 2019 at 7:09 AM