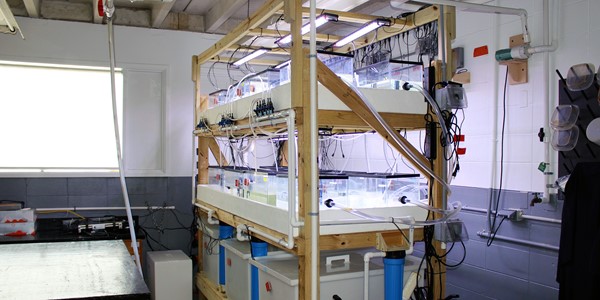 Individual Laboratories
Some of these labs are assigned to individual FSUCML faculty.  Others are available to FSU faculty from the main campus and to visiting scientists.  Fees apply.
Each laboratory suite in the main laboratory building contains:
Water: (1) Seawater, (2) potable water (chlorinated and softened) sink spigot, hot and cold faucet controls, and (3) nonpotable fresh water available upon request. Installation charges apply
Wet table (4 ft x 6 ft or smaller), plumbed to the floor drain
Four 1/8" low-pressure, high-volume air spigot/valves
Counter top, shelves, and cabinet spaces
Numerous 110-volt and several 220-volt electrical outlets
Internet connectivity
Laboratory space may be altered to suit the research needs of the FSU user, at the user's expense. Users can obtain a floor plan from the facilities department. Users should indicate on the floor plan a schematic for all alterations and consider the following:
Maximum live loads, which must not exceed 60 psf within the laboratory building
Location of tanks, work benches, cabinets and other needs
Layout of electrical components, requirements and use (voltage, amperage, grounding)
Layout of seawater and fresh-water piping
The user should seek approval through the facilities department before the installation of any electrical or other equipment that may interfere or integrate with any component of the "common" facility service and engineered services.
All aquaria, tanks, & other water containers must be placed in wet tables plumbed to floor drain (in case of catastrophic spills) & placed 2-3 feet away from all electrical outlets.
---
Last Updated: Tuesday, February 4, 2020 at 3:26 PM