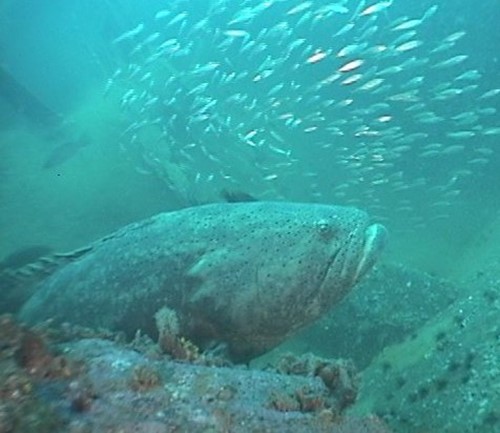 Goliath Grouper Characteristics
The Atlantic Goliath Grouper is the largest of the western north Atlantic groupers. It can reach about 455 kg (800 lbs) and over 2 m (~6 ft) total length. The following features can easily distinguish this species: broad head, round tail, small eyes, and short dorsal fin spines. They tend to have a brownish-yellow or greenish-gray mottled pattern and small black spots on their fins. Fish mature at 5 or 6 years of age at about one meter in length. they are relatively long lived, with individuals at least 37 years old found in exploited populations. It is possible, however, that older fish occurred in unfished populations.
Historically, Goliath Grouper Epinephelus itajara were found in tropical and subtropical waters of the Atlantic Ocean, both coasts of Florida, and from the Gulf of Mexico down to the coasts of Brazil and the Caribbean. Most adults are found on shallow reefs, the deepest being about 150 feet. They form spawning aggregations of about 100 individuals at consistent sites from July through September. Fish may move up to 100 km from inshore reefs to these spawning sites, which typically occur on rock ledges, isolated patch reefs, and even on ship wrecks.
Goliath grouper have a pelagic larval duration of approximately 6 weeks. They settle in shallow mangrove habitat, first in mangrove leaf litter, and then along mangrove shorelines. The juvenile stage lasts 5 or 6 years in this mangrove habitat, after which fish egress to shallow reefs, eventually joining adult populations offshore. Their distribution in mangroves depends on local water quality, particularly dissolved oxygen content (> 4 ppm) and mid-range salinities (> 10 ppt).