Awards & Degrees
Save Our Sea Foundation Grant Winner Bryan Keller

To protect life in our oceans, especially sharks and rays, the Save Our Seas Foundation has expanded its support of global marine research, conservation and education initiatives.  Congratulations to FSUCML Graduate Student Bryan Keller (advisor Dr. Dean Grubbs) on his research being one of 18 funded new projects aimed at generating critical knowledge on marine species and their habitats.  To read more about Bryan and his research click here: https://saveourseas.com/project-leader/bryan-keller-2/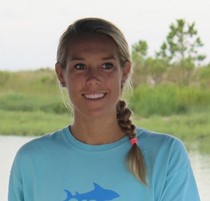 2017 Matt Beard Memorial Award for Excellence in Research - Abbey Engleman
This annual award is given to a student of the FSU scientific diving community that best embodies the spirit of former FSU student Matt Beard.
Abbey Engleman has been awarded the 2017 Matt Beard Memorial Award for Excellence in Research.  The annual award is given to a student of the FSU scientific diving community that best embodies the spirit of former FSU student Matt Beard, who was tragically killed by a drunk driver in 2007 before his project in coral conservation could be completed.
Abbey's research into the significance of texture in coral recruitment and the application in restoration efforts is something we are all excited about and is reflective of the great spirit of Matt's work.  By combining characteristics that attract coral settlement with features known to enhance survival to recruitment, substrates can be designed to optimize the percent of larvae that recruit to a reef, improving restoration efforts and kick-starting ecosystem recovery.  To read more about Abbey's research https://fsumarinelab.wordpress.com/2017/08/14/can-3d-printed-corals-enhance-larval-recruitment-to-degraded-reefs/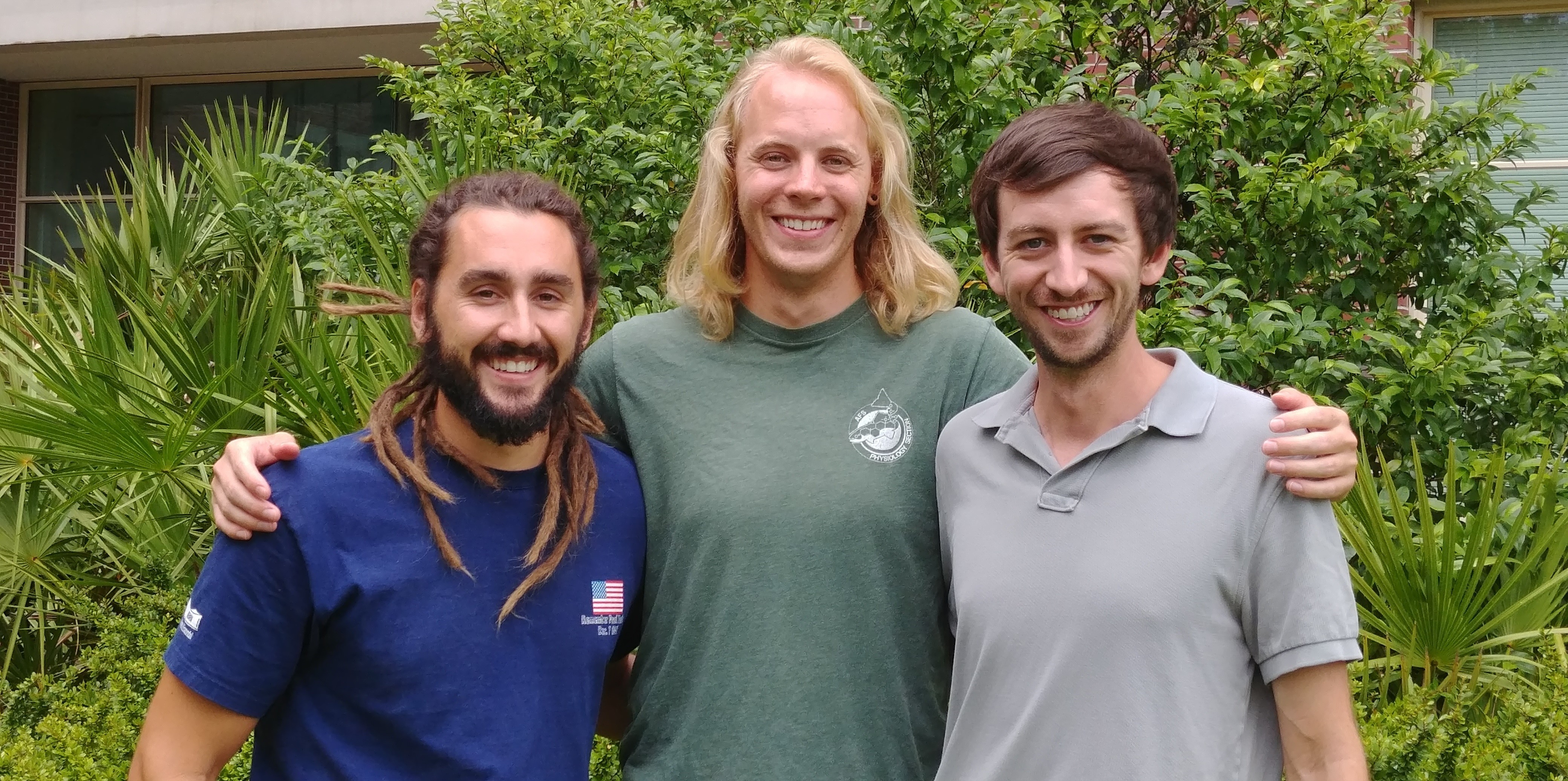 FSUCML Guy Harvey Scholars 2017. Three FSUCML graduate students receive Guy Harvey Awards. This year, awards went to Bryan Keller , Brian Moe, and Cheston Peterson.
That brings the lab's total number of Guy Harvey recipients to 10! Keller will be examining the role of magnetic-based navigation in bonnethead sharks, a body of work for which he also received funding from the Save Our Seas Foundation. Moe is investigating novel approaches to studying age and growth in deep waters sharks.  Peterson (who also received a Guy Harvey Award in 2011 for his work on the effects of oil spill on fish diets)  will be investigating the species interactions of blue crabs with predatory sharks and marine catfish. You can learn more about these projects on the Florida Sea Grant website.
Florida Sea Grant Scholars Named.  Two of five recipients of the Florida Sea Grant Scholar A wards this year include Ph. D. students Bryan Keller (Advisor Dr. Dean Grubbs) and Abbey Engleman (Advisor Dr. Sandra Brooke).  These two young scientists are conducting research important to the health of ocean ecosystems statewide. Abbey proposes using 3D printers to create coral reef prosthetics while Bryans work centers on understanding the migration patterns of coastal sharks. In addition to the monetary award ($2,000 each), Abbey and Bryan will learn about Sea Grant's statewide program of extension and education.
Knauss Marine Policy Fellowship. Brendan Talwar has had a long-standing interest in the intersection of science and policy. "My research interests have always been motivated by a desire to solve real world problems and inform fisheries management. The opportunity to understand how this research can be translated into marine policy is invaluable. I'm extremely thankful to be awarded the Knauss Fellowship and I am eager to better understand the role of science in policy-making at the national level." Congratulations, Brendan. We look forward to hearing about your experiences in the policy arena.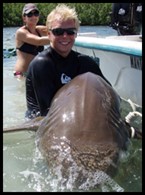 FSUCML Coastal & Marine Conservation Research Assistantship Award. We are pleased to announce our first recipient of the FSUCML Coastal & Marine Conservation Research Award, Brian Moe, Ph.D. student, Department of Biological Sciences (Advisors: Dr. Chip Cotton and Dr. Joe Travis). Brian is currently researching the growth and life history of deepwater sharks in the Gulf of Mexico. This award is the brain child of FSU alumni Tommy Warren and Kathy Villacorta, who created this endowment to provide support for graduate student.
2017 FSUCML Scholarship Recipients
We are pleased to announce the 2017 recipients of the FSU Coastal and Marine Laboratory Graduate Student Research Scholarships. Recipients receive $1,000 each and use the Marine Lab as a base for conducting their graduate research. Awards go to: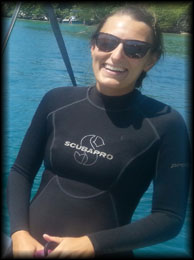 Maggie Vogel (Dept. Bio Sci, Advisor: Dr. Tom Miller) - "The influence of abiotic stress on the diversity and composition of seagrass associated microbial communities."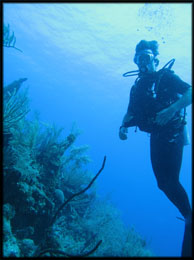 Kevin Olsen (Dept. Bio Sci, Advisor: Dr. Don R. Levitan) - "Influences of microscale genetic differentiation on the mating system characteristics of the colonial ascidian Lissoclinum verrilli."
Austin Heil (Dept.EOAS, Advisor: Dr. Sandra Brooke) - "The reproduction and age structure of the Sheepshead (Archosargus probatocephalus) in different habitats in the NE Gulf of Mexico.
Past Awards
2016
FSUCML Scholarships
Katie Kaiser - Climate change-mediated distributions: impacts on ecological interactions
Austin Heil – Aggregations and spawning behavior in Sheepshead, on artificial Reefs in the NE Gulf of Mexico
Chris Malinowski - Bioaccumulation patterns of mercury on Goliath Grouper: impacts on health, reproduction, and survival
Ryan McKenzie – Mating system and the effects of relative body size and size-selective fishing in the black sea bass
John A. Knauss Marine Policy Fellowship
Alexandra Harper (Advisor Chanton), Ph.D. FSU Earth Ocean Atmospheric Science
William & Lenore Mote Graduate Summer Research Assistantships
Joanna Imhoff (Advisor Grubbs)
Christopher Malinowki (Advisor Coleman)
2015
FSUCML Scholarships
Zach Boudreau – the ecological costs of claw autotomy in stone crabs
Marina Lauck (Advisor Miller) - The effects of algal mats on intra- and interspecies competition on plant communities in coastal dune ecosystems
Chris Malinowski (Advisor Coleman) – Mercury contamination in Goliath Grouper
Ryan McKenzie (Advisor Coleman) – Mating systems and relative body size of black sea bass
Ale Mickle (Advisor Chanton & Grubbs) – Mercury toxicity in hagfish
Brendan Talwar (Advisor Grubbs) – Capture stress in two deep water shark species
Guy Harvey Scholarships
Chris Malinowski (Advisor Coleman)
Brendan Talwar (Advisor Grubbs)
John A. Knauss Marine Policy Fellowship
Bob Ellis (Advisor Coleman)
2014
FSUCML Scholarships
Chris Malinowski (Advisor Coleman) –
Ale Mickle (Advisor Chanton & Grubbs)
Bianca Prohaska (Advisor Grubbs)
Guy Harvey Scholarship
Bianca Prohaska (Advisor Grubbs)
2013
FSUCML Scholarships
Zach Boudreau (Advisor Levitan) – Ecological consequences of cheliped autotomy in stone crabs
Johanna Imhoff (Advisor Grubbs) – Depth-mediated difference in trophic ecology and mercury contamination in six species of sharks
Cheston Peterson (Advisor Grubbs) – Understanding the symbiosis of sharksuckers and their hosts.
Carly Ryan (Advisor Miller) – Temperature-mediated sexual plasticity in an invasive sea anemone
Guy Harvey Scholarship
Robert Ellis (Advisor Coleman)
Johanna Imhoff (Advisor Grubbs)
2012
FSUCML Scholarships
Ellen Kosman (Advisor Levitan)
Cheston Peterson (Advisor Grubbs) 
Matt Kolmann (Advisor Grubbs) 
Travis Richards (Advisor Grubbs) 
Zach Boudreau (Advisor Levitan) 
2011
Guy Harvey Scholarship - Cheston Peterson (Advisor Grubbs)
PADI Foundation - Bob Ellis (Advisor Coleman)
---
Last Updated: Monday, October 23, 2017 at 2:14 PM