Current Awards (FY19)
2019 FSUCML Coastal & Marine Conservation Student Research Award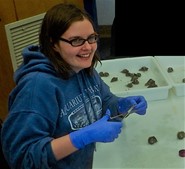 Congratulations to Alex Hooks, Ph.D. student, Biological Sciences  (Advisor: Dr. Scott Burgess) for being awarded the 2019 FSUCML Coastal and Marine Conservation Student Research Award.  This award is given to the student whose research best exemplifies protection and conservation of coastal and marine habitats, protection of ecologically and economically important marine species; and/or supports sustainable fisheries. Her research is on the reproductive success of the voracious oyster predator, the Florida crown conch (Melongena corona),  which has precipitated significant losses of oysters and oyster reefs and is clearly both a management and conservation problem. Information that might reduce outbreaks of this species will prove invaluable to oyster habitat restoration, ecosystem recovery, and to industries that depend on healthy oyster populations. 
FSUCML Board of Trustees Graduate Research Awards
FY19 Matt Beard Memorial Award
Congratulations to Ethan Cissell, Ph.D. student, Biological Sciences (Advisor: Dr. Sophie McCoy) for being awarded the 2018 Matt Beard Memorial Award for Excellence in Research. The annual award is given to a student member of the FSU scientific diving community that best embodies the spirit of former FSU student Matt Beard, who was tragically killed by a drunk driver in 2007 before his project in coral conservation could be completed.  Ethan's research focuses on the interactions between endolithic bacteria and crustose coralline algae especially nutrient exchanges between the endolithic community and the host coralline, impacts of nutrient exchange on host ecology, and bioerosion of the living host. (9/2018)
---
2019 Knauss Marine Policy Fellowship
Congratulations to FSUCML PhD. Graduate Bianca Prohaska, advisor Dr. Dean Grubbs, who recently earned her Ph.D. in ecology and evolution.  For her dissertation, she investigated the stress physiology in the endangered smalltooth sawfish and how human-caused habitat loss may be affecting juveniles. She also studied how longline capture in scalloped and great hammerheads affects their stress physiology, and their potential to survive once released.  As a 2019 John A. Knauss Marine Policy Fellow Bianca will be working for National Oceanic and Atmospheric Administration (NOAA)'s Ocean and Atmospheric Research International Activities Office in Washington D.C. The Sea Grant Knauss Fellowship provides a unique educational and professional experience to graduate students who have an interest in ocean, coastal and Great Lakes resources and in the national policy decisions affecting those resources. The Fellowship, named after one of Sea Grant's founders, former NOAA Administrator, John A. Knauss, matches highly qualified graduate students with "hosts" in the legislative and executive branch of government located in the Washington, D.C. area, for a one year paid fellowship. 
---
FY19 National Geographic Grant Recipients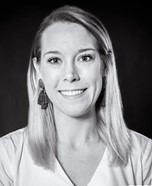 The National Geographic Early Career Grant Winner – Abbey Engleman
The National Geographic Society awards grants for conservation, education, research, storytelling, and technology through its Committee for Research and Exploration. Congratulations FSUCML Graduate Student Abbey Engleman for receiving the National Geographic Early Career grant for her proposal titled: 3D Technology to Advance Coral Reef Restoration.
This proposal includes both research and an outreach component, which use separate types of 3D technology. The research will use 3D modeling and 3D printing to design scalable settlement substrates to test the influence of multi-level structural complexity and chemical morphogens on larval settlement and post-settlement survival. 

The outreach component included in this proposal is to create a 3D Virtual Reality (VR) video. By using VR technology to immerse diverse audiences in underwater research, this outreach video can foster a sense of connection between scientific research and the broader community.
The learn more about Abbey's research click here: https://fsumarinelab.wordpress.com/2017/08/14/can-3d-printed-corals-enhance-larval-recruitment-to-degraded-reefs/ 
Use the links in the sidebar to see some of FSUCML's previous award and grant recipients.
---
Last Updated: Thursday, March 14, 2019 at 7:56 AM