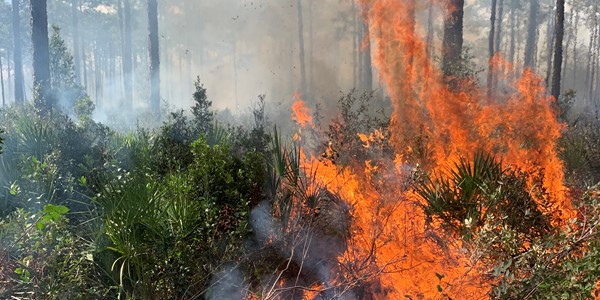 Longleaf Pine Restoration
CML embarks on a long-term long-leaf pine restoration project on the North 70
First Burn of North 70
March 2020 started off ablaze at the lab, literally, when a long anticipated prescribed burn of the longleaf pine (Pinus palustris) stand on FSUCML land (known as the North 70 because of its location north of the main laboratory and Highway 98) occurred under the watchful eye of Tall Timbers Research Station & Land Conservancy's Burn Boss, Jeremiah Cates (Private Lands Prescribed Fire Coordinator for Tall Timbers) and his crew.  Tall Timbers volunteered to take on the task, reaching an important milestone in the lab's longleaf pine restoration plan that began in 2016 (read about it here.) This is the first known burn of this tract at least since the 1960s and perhaps even a century earlier, re-establishing a fire regime that has been repressed for far too long. 
Burn Boss Cates oversaw all aspects of the prescribed fire, from writing the burn plan to organizing the equipment and leading the crew before, during, and after the fire. His job? To see that the burn was conducted safely and burned over the duff quickly without building sufficient intensity to penetrate to the deep duff layer surrounding the bases of the pine trees. 
Arriving early on Sunday morning, March 1st, the crew waited for a southerly wind to ensure that the smoke stayed north of Highway 98 and did not affect neighboring residential areas. When that occurred, Cates signaled the crew to ignite the fire, starting from the northwest corner of the tract, continuing slowly across an area of 36 acres.  When the fire burned out by late afternoon, the crew extinguished smoking logs and other material near the perimeter, double-checked for any remaining fires, and headed home after a long successful and safe burn.
We will continue prescribed burns of the North 70 tract every two years to ensure that the natural fire-dependent ecosystem is restored. With the help of practicing and citizen scientists, we will document the changes that occur over time, keeping tabs on the evolving tapestry of communities that include native species of pollinators, birds, mammals, amphibians, and reptiles, as well as understory trees, shrubs, and herbaceous plants that interact with each other on a grand scale. These ecosystems are among the most diverse in North America and well worth our time and effort. 
We will post announcements for volunteer opportunities in the coming months. Stay tuned.
---
---
Last Updated: Monday, May 18, 2020 at 4:44 PM