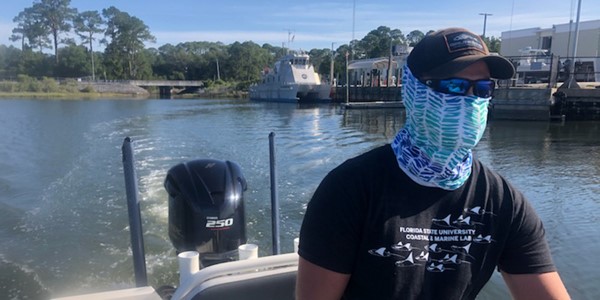 Research in the Time of COVID19
Several months after the COVID19 pandemic began, universities across the nation started to re-open their doors to their staff, faculty, and graduate students while implementing many new protocols in an effort to protect the health and safety of their employees. The Florida State University Coastal & Marine Laboratory is no exception.
After a complete state-wide shutdown in Florida -- with only essential staff allowed on campuses,  mid-May heralded in a "soft-opening" that allowed up to 25% of the full-compliment of personnel onsite at a time. The lab, like the main campus, requires that everyone entering the gate wears a mask, practices social distancing of at least six feet, and adheres to FSU travel restrictions. In these unusual times, FSUCML's main goal is to ensure the safety of their employees while allowing essential research to continue. Read on to learn from our faculty and staff what they are up to and how they are coping with research in the time of COVID19.
Chris Matechik, ABSI Research Assistant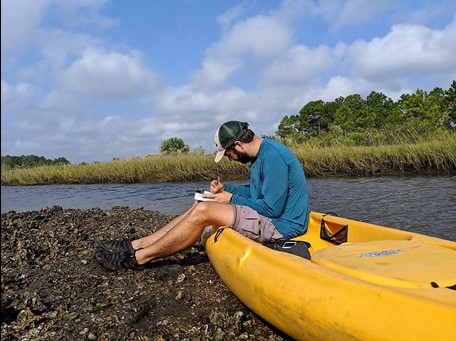 Before Florida State University (including the Coastal & Marine Laboratory) closed as a result of COVID19, I was monitoring intertidal oyster reefs in Indian Lagoon, St. Vincent Sound, Carrabelle River, and Alligator Harbor to determine the size and density of oysters on local reefs. I also prepared samples for genetic and reproductive analysis and constructed spat traps to later deploy at sites around the Apalachicola Bay System.  During the closure, I have maintained monitoring efforts, but was unable to work at the lab full time, so I switched some of my focus to building an interactive web map that will house data that we collect as well as data from some of our partners illustrating where our work is being conducted.                                                                                                                                                    Since the lab's soft-opening (25% return to work), we have continued monitoring our oyster sites and have started preparing to deploy water quality loggers throughout the Apalachicola Bay System.  This research calls for fieldwork, which we have been able to accomplish by enhancing our safety procedures in an effort to reduce the risk of viral transmission among researchers.  In order to minimize travel, we follow a strict employee rotation schedule and only use local staff rather than faculty or volunteers from FSU's main campus. Whether working the lab or the field, we drive in separate cars, always wear masks, frequently use hand sanitizer, and stick to the same task all day so we avoid passing equipment back and forth. The FSUMCL has always placed safety first and although specific work guidelines have changed to reflect the current pandemic, the primary goal of SAFELY collecting valuable scientific data has not.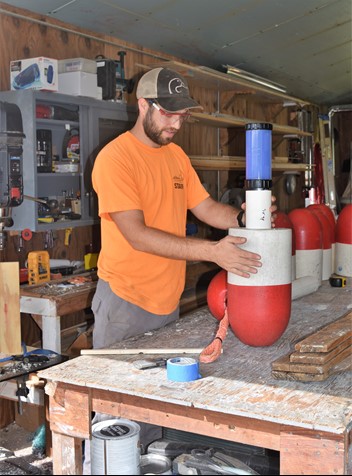 I haven't found the new procedures hard to follow. Our crew is usually covered up anyway, including most of our faces, to protect ourselves from sun exposure, so adding a mask isn't a big change. Funnily enough, I have actually become so accustomed to wearing a mask that I recently forgot I was wearing one and tried to eat my field lunch but ended up smearing a burger all over my mask instead. Unfortunately, I have also learned that most of these masks are designed for casual, short-term use, not the rigors of fieldwork. The elastic doesn't seem to hold up well but we carry a few extras in case we have any failures.                                                                                                                                                                                                                                        The lab's soft opening and increased remote work hasn't changed my perception of my job much. I have enjoyed working remotely, but aside from that, the overall experience has made me grateful that the FSUCML prioritizes safety and we have a dedicated staff who will come up with creative solutions to get the job done without putting anyone at an unacceptable level of risk. One positive to come out of the pandemic is people are beginning to recognize the importance of nature and open spaces to our wellbeing as individuals and society as a whole.  Additionally, this situation has demonstrated that science has an important role in maintaining our quality of life, and that's a lesson that has implications beyond the response to coronavirus. We have seen how valuable science can be. Now let's start applying it to other topics such as managing fisheries for sustainable harvests, reducing pollution, investigating potential sources of greener energy, devising ways to grow food without massive inputs of chemical fertilizers and pesticides, and more.
**Pictures included were taken before the statewide shutdown
---
Eve Moore, Marine Technician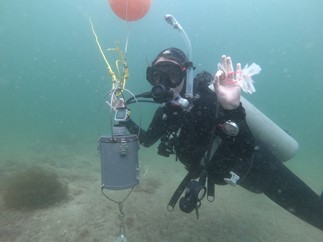 I am a recent graduate of the University of Florida and now work as a marine technician for Dr. Sandra Brooke.  Before the COVID closure, Dr. Brooke and I worked extensively in the field at the St. Mark's National Wildlife Refuge monitoring artificial reefs as part of a Florida Fish and Wildlife Conservation Commission (FWC) project.  We are monitoring the growth of benthic flora and fauna growing on artificial reefs, as well as the other marine organisms that inhabit reef communities.  We managed to complete our fieldwork the day before the lab closure took effect.  My job is to process and identify organisms in photos taken during our surveys, using them to create an invertebrate reference collection. I also participate in field work once a week associated with the Apalachicola Bay System Initiative, working with Chris Matechik, Research Assistant and Lead Field Technician for ABSI. My job is to evaluate oyster density and condition, and lend a hand where needed with other ABSI research tasks.
Since the soft-opening, I have had significant blocks of time to process nearly all of the images from the S
t. Mark's artificial reef project, a whopping collection of over 1,900 quadrat photos spanning just over a year of seasonal sampling. However, I have not been able to assist with any hands-on lab or fieldwork for ABSI, aside from building spat traps in my garage. The traps are intended to capture settling larval oysters. Rather, I have taken the opportunity created by working remotely to organize the ABSI team's vast collection of references into an easily accessible database. This will facilitate our ability to pull together relevant information on any of a variety of topics, from oyster ecology to socio-economics and modeling, for writing reports, publishing papers, and providing the funders with required deliverables related to our research.
The COVID closure has made me value the people I work with even more.  I've been very impressed by how hard the lab administrators and ITS team have been working to keep us up and running. On a personal note, with more downtime at home, I've enjoyed talking to my distant friends and family, as well as getting back into some of my passion projects, like painting and writing.
**Pictures included were taken before the statewide shutdown
---
Last Updated: Monday, June 1, 2020 at 9:32 AM