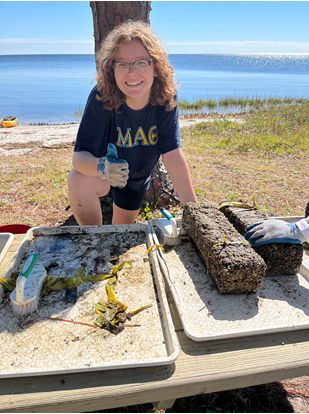 "The life of man is of no greater importance to the universe than that of an oyster." – David Hume
Emily White, a high school junior from Peachtree City, Georgia, developed a passion for the ocean and marine conservation at a young age, especially after visiting Apalachicola in 2018 on a field trip lead by her Dad, the science coordinator for Coweta County Schools. What struck Emily the most about the Apalachicola Bay region was the respect and relationship between the local community and the Bay. "You have this really rich Bay environment that also supports the people of the town…some people don't understand the direct connection between their environments and their livelihoods so it was really cool to see this entire community of people who really understand that." After their first trip in 2018, Emily's family continued to frequently visit  Apalachicola and saw firsthand the heartbreak that followed the declining oyster populations. A self-proclaimed "science nerd," Emily realized that she wanted to use her passion for science and engineering to not only help the environment, but the community as well.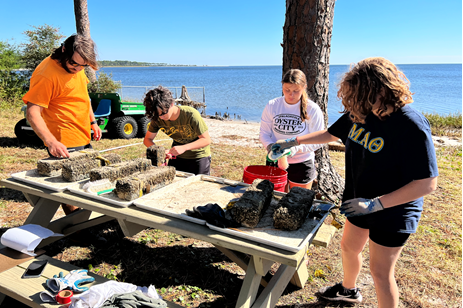 In 2020, Emily began to research different variables that could be causing the decline of the Bay's oyster populations, and began to ponder what could be done to help restore its health. She began researching and learning about artificial reefs and what materials would be safest and best for spat settlement. She settled on a simple mix of concrete and crushed oyster shell, as these materials don't affect the water quality, and they are easily accessible materials to purchase and make on your own. Her thinking was that if this type of artificial structure mix proved viable, it could lend itself to a greater initiative of involving the local community and ultimately, jumpstarting oyster reef restoration efforts. Originally, this venture into artificial oyster habitats started as a science fair project, in which she performed very well and was invited to both the Georgia Science Fair and the Regeneron International Science Fair!
Armed with a variety of mixes that contained different levels of oyster shell, she then reached out to the Apalachicola Bay System Initiative (ABSI) and created a plan to come to the Florida State University Coastal and Marine Laboratory (FSUCML) to test her experimental artificial oyster habitats.  In September of 2021, she set 54 oyster habitat experiments in the Bay to test which experimental mix attracted the most spat.
After 49 days, she came back to the lab in November 2021 to take them out of the water and analyze the quantity and survival of spat on each experimental mix. Unfortunately, the amount of spat settlement on each of the individual structures wasn't as high as she had predicted, but she is happy to use this as preliminary data to tweak her mixes. She plans on coming back for a new round of experiments at the FSUCML in the spring of 2022.
What she loved most about this process (besides getting to be back in the Apalachicola area ) was getting to work with the incredible ABSI and FSUMCL staff. "It was really cool to me to talk to and work with these people who do [oyster research] for a living…and also to be treated like an equal, a colleague." She is incredibly grateful to Chris Matechik, Lead ABSI Research Assistant, and Barry Walton, FSUCML Research Technician, for not only allowing her the space to experiment and grow as a scientist, but for providing support and encouragement throughout the entire process.