Fast Facts: Lanark Reef is For the Birds
Description
Lanark Reef, a six mile stretch of submerged and emergent land forming a series of small barrier islands off the Florida Panhandle, is one of Florida's most significant sites for threatened and endangered coastal birds. The tiny islands are only a mile in length, 4 acres in area, and covered with sand, dunes, grasses, and shrub, while the remaining submerged portion consists of sand, mud flats, and rich seagrass beds. The islands serve as breeding grounds for Brown Pelicans, Black Skimmers, Willets, and American Oystercatchers (considered threatened in Florida), and migratory and wintering grounds for Red Knots, and Piping and Snowy plovers, among many others. Nearly 250 species can be found in any given year. The surrounding mud flats, grass beds, and shallow water provide abundant prey for avian residents and visitors alike.
Conservation
Audubon Florida acquired Lanark Reef in 2012, turning it into a protected bird sanctuary. The reef is considered an "Important Bird and Biodiversity Area" by Audubon and critical habitat for the Piping Plover by the U.S. Fish and Wildlife Service. Funding for the purchase came from two sources: The National Fish and Wildlife Foundation from a settlement they received as a consequence of the Deepwater Horizon oil spill, and individual donors interested in providing support in perpetuity for this very special reef.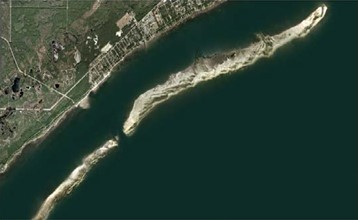 Visiting the Reef
Protecting Lanark Reef and the birds that depend upon it is vital. Why? Because getting too close to nesting birds can result in parents being flushed from their nests. This leaves their eggs and young vulnerable to predation or to the elements. Similarly, persistent disturbance of wintering birds can affect their ability to survive spring migration and may affect their ability to reproduce successfully the following spring. According to the Audubon Society, a single disturbance can destroy an entire colony. To guard against disturbances, the Florida Fish and Wildlife Conservation Commission posts signs around the island to remind you not to bother the birds.
What can you do? If you want to observe the birds, please do so from a distance. Remain in your boat and don't go on the island. Also, be aware that the shallow waters that surround Lanark Reef contain seagrass that can be easily damaged by the repeated impacts of boat hulls and propellers.
---
Last Updated: Monday, January 27, 2020 at 4:19 PM