Dr. Dean Grubbs, faculty member of the FSU Coastal & Marine Laboratory, is a collaborator on a new research program aimed at investigating the diversity and abundance of deep ocean sharks living in The Bahamas. The Shark Research and Conservation Program at the Cape Eleuthera Institute issued a press release on September 22, 2010 about the program, and noted that "of all the currently described species of sharks, 256, or 56%, live their entire life below 200m (660ft) of water. Until recently these deep-water environments acted as a refuge from human exploitation, however, as stocks of fish closer to the ocean surface are subjected to overfishing, commercial interests are turning their attention to the deep. Many of these deep-water sharks are being exploited without any understanding of their biology and ecology on which to base management decisions."
Dr. Dean Grubbs studies one of the most exciting discoveries so far in the project, a 47cm long springer's sawtail catshark, a species which is very new to science, having only been described in 1998.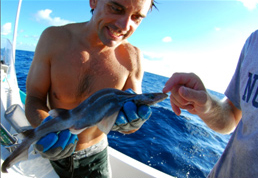 Dr. Grubbs had this to say about the project's success so far: "I have conducted research on deep water sharks in a number of locations around the world including the central Pacific off Hawaii, the temperate western Atlantic off the east coast of the USA and in the Gulf of Mexico. Cape Eleuthera appeared to be an ideal location to expand my research; however, I never expected the incredible diversity and abundance of species we encountered these last few days. Twenty-five sharks from six different species on only six surveys is an incredible record."
This exciting new direction of shark research will continue to investigate and explore the deep-water inhabitants of the Bahamas and provide much needed information on this minimally studied area of the world's oceans. The complete press release, with additional photos, can be found at The Bahamas Weekly.