Class & Research Space
Our facilities are available to scientists and educators all over the globe who want to work in the pristine environment in or surrounding Apalachee Bay.
Members of our staff are available to help you determine what classroom and/or research space (laboratories, holding facilities, and greenhouses) will best fit your needs to accomplish your research, education, or outreach objectives. Descriptions of the space appears below. Have questions?  Email fsucml@fsu.edu or call 850 697 4120.  To secure space, please fill out the reservation form
Educational programs involving primary and secondary school students are welcome. Supervision is required at a ratio of one adult for five students. Students staying overnight must be in at least the ninth grade. Waivers that apply for visiting groups of such students include the FSUCML Waiver and the Information for Teachers and Chaperones.
Classroom Space and Equipment
Two dry classroom spaces are available in the Administration Building:
Three wet classrooms with wet tables for holding specimens, work tables, microscopes, and glassware are also available:
Reef Fish Ecology Building Large Classroom (42ft x 20 ft; seats 42)
Main Laboratory Building, Lab 15B - Small Classroom (17-ft x 19-ft, seats 18)

Three 6-ft folding tables with stools (seats 18)
Whiteboard (4-ft x 8-ft) and lecture podium
Projection screen(4-ft x 6-ft) and overhead powerpoint projector
Wet table (2 ft x 8 ft) with access to seawater and air (1/8" low pressure, high volume air spigots/valves)
Zoological specimen collection in open cabinets

The Doc Herrnkind Greenhouse (20-ft x 45-ft, wood deck flooring; seats 15)

Three work benches (30-ft x 8-ft) with sinks and fresh water
Wet tables with access to running seawater and air (1/8" low pressure, high volume valves) include four 3-ft x 6-ft tables and four 2-ft x 8-ft tables (click here to see wet table array)
Research Space and Equipment
Ⅰ. Individual Laboratories
Some of these labs are assigned to individual FSUCML faculty.  Others are available to FSU faculty from the main campus and to visiting scientists.  Fees apply.
Each laboratory suite in the main laboratory building contains:
Water: (1) Seawater, (2) potable water (chlorinated and softened) sink spigot, hot and cold faucet controls, and (3) nonpotable fresh water available upon request. Installation charges apply
Wet table (4-ft x 6-ft or smaller), plumbed to the floor drain
Four 1/8" low-pressure, high-volume air spigot/valves
Countertop, shelves, and cabinet spaces
Numerous 110-volt and several 220-volt electrical outlets
Internet connectivity
Laboratory space may be altered to suit the research needs of the FSU user, at the user's expense. Users can obtain a floor plan from the facilities department. Users should indicate on the floor plan a schematic for all alterations and consider the following:
maximum live loads, which must not exceed 60 psf within the laboratory building
location of tanks, work benches, cabinets and other needs
layout of electrical components, requirements and use (voltage, amperage, grounding)
layout of seawater and fresh-water piping
The user should seek approval through the facilities department before the installation of any electrical or other equipment that may interfere or integrate with any component of the "common" facility service and engineered services.
All aquaria, tanks, and other water containers must be placed in wet tables plumbed to the floor drain (in case of catastrophic spills) and placed 2-3 feet away from all electrical outlets.
Ⅱ. Common Laboratory Spaces
Available by reservation to all users. The common spaces include a microscope room, an analytical lab, an equipment room, an aquarium room, a closed seawater system, a flume laboratory, a necropsy laboratory, a zoological collection and classroom, and Lab 20.
Lab. 1 - The MICROSCOPY LABORATORY
ZEISS AXIO Imager A1 (Fixed lab only)
ZEISS Stereoscope Discovery .V12 (Fixed lab only)
Lab 2 - THE ANALYTICAL LABORATORY open for use at all times; contains the following equipment:
BALANCES

Electronic Mettler XS 64 – range 0.001g - 61g
Electronic Mettler AE50 – range 0.001g - 11g
Electronic Mettler PB303-3 – range 0.1g - 310g
Electronic Mettler MS4032 – range 0.1g - 420g

CENTRIFUGES

Fisher Scientific Model 228 (counter top)
Fisher Scientific Model 22A (counter top)
Marathon 16km Centrifuge

 FREEZER-REFRIGERATOR

Refrigerator and Freezer, Standard
Ultrafreezer, -80°

FUME HOOD
 INCUBATORS

Culture Incubator
Dry Bath Incubator

 OVENS

Drying , Quincy Lab Bench Model 21-250, Inside Dimensions: 25.5"x 20"H x 24"D. Max. Temp = 149°C
Muffle Furnace, Scientific Thermolyne Model F6028C-80. Inside Dimensions: 10"D x 12.8"w x 6.8"h. Temp. Range: 100°C to 1200°C
Drying, Fisher Istotemp Model 516g. Inside Dimensions: 14"W x 16.2"D x 14"H. Temp. Range 40°C to 200°C

MISCELLANEOUS ITEMS

Lab 3 - THE EQUIPMENT ROOM is locked and equipment must be requested; this lab contains field equipment available for loan as well as the following:
MICROSCOPES Classroom/Research (can be moved for research/classroom purposes)

Stereo-microscopes - 20 total

Olympus Model CHTSZ4045 - 6
Stereomaster Dissecting microscope - 14

Compound microscopes - 9 total

Olympus Model BH2 - 1
Olympus Model CH2 - 6
Wolfe Elite - 1
Lab 5 - The AQUARIUM ROOM - This 900-gallon recirculating tank system is perfect for experiments requiring individuals to be in separate tanks but experiencing the same environmental conditions. The system consists of 56 individual tanks stacked three tiers high. The bottom row consists of sixteen 15-gallon tanks, the middle row of twenty 7.5-gallon tanks, and the top row of twenty 2-gallon tanks. Water temperatures for the entire system can be raised to at least 33° C (91.4° F) using heaters submerged in the sumps or lowered to 20° C (68° F) by using the window air conditioning unit.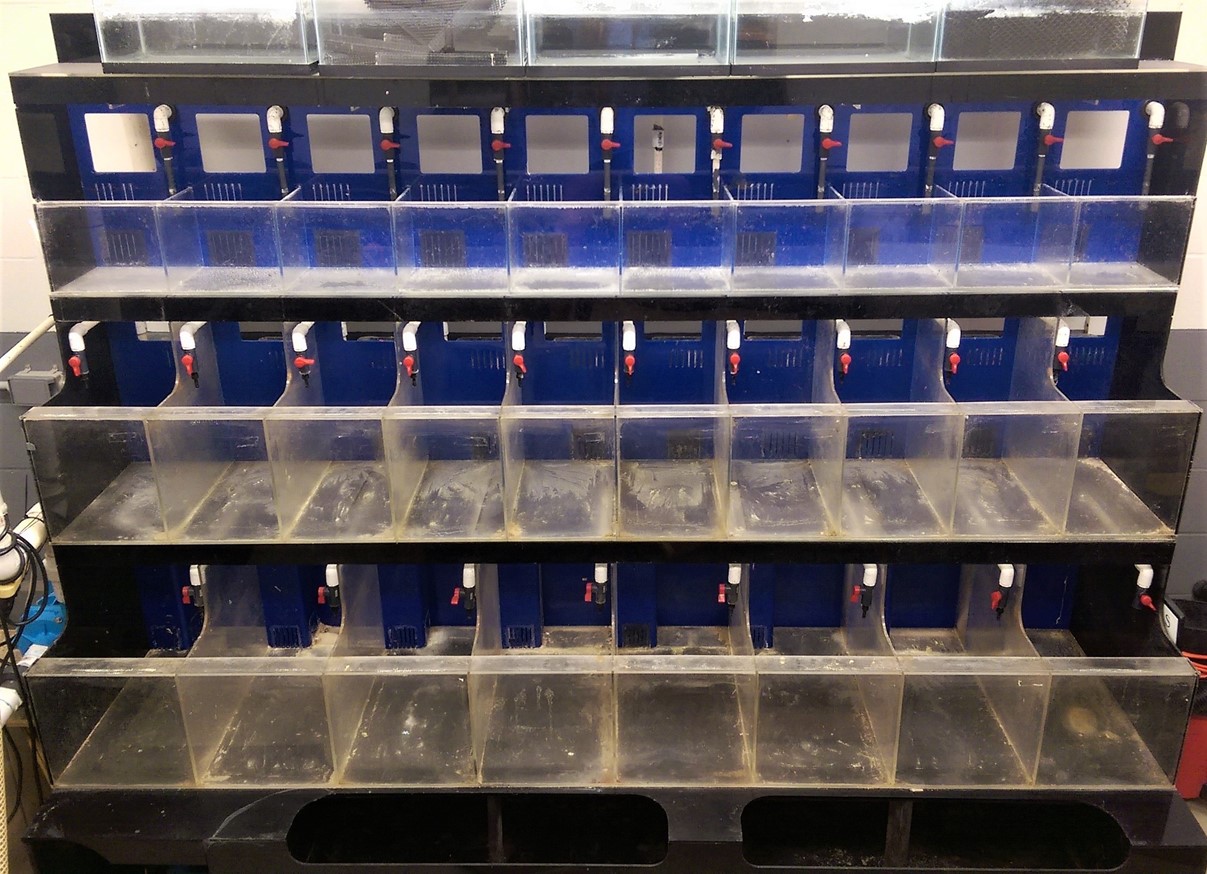 Lab 10 - The CLOSED SEAWATER SYSTEM LABORATORY  – The Closed system in the lab includes 4 experimental units, each consisting of two  95-gal tanks (an experimental tank above and the accompanying sump below). Temperature and salinity can be adjusted individually in experimental units. Below the lab is the water storage tank (1000-gal capacity, currently filled with full-strength natural seawater) and filtration system, consisting of a sand filter, a cartridge filter, and UV filter.

Lab 13 - FLUME LABORATORY  - The flume is a clear acrylic duct 5 m long, 0.5 m wide, and 20 cm deep. A removable bottom plate is located 4.5 m from the entrance of the flume. Sediment cores can be mounted in it, coplanar with the bed of the flume. Seawater is supplied to a 416-1 constant-head tank. Flow enters the flume through a 10.I-cm (inner diameter) T-shaped diffuser and then is rectified through a "honeycomb" of hexagonal cells, each 0.5 cm in widest dimension. The discharge from the constant-head tank is regulated by a butterfly valve. A tail gate of eight vertical louvers (each 6.25 cm wide) allows uniform flow to be established across the width of the flume. At the end of the flume, the seawater falls freely into a tail tank from which it can flow to a drain or be returned to the head tank. The return system includes four pumps (each capable of moving ~ 114 I· min - I) that operate in parallel. The long axis of the flume can be tilted through angles up to l.5°.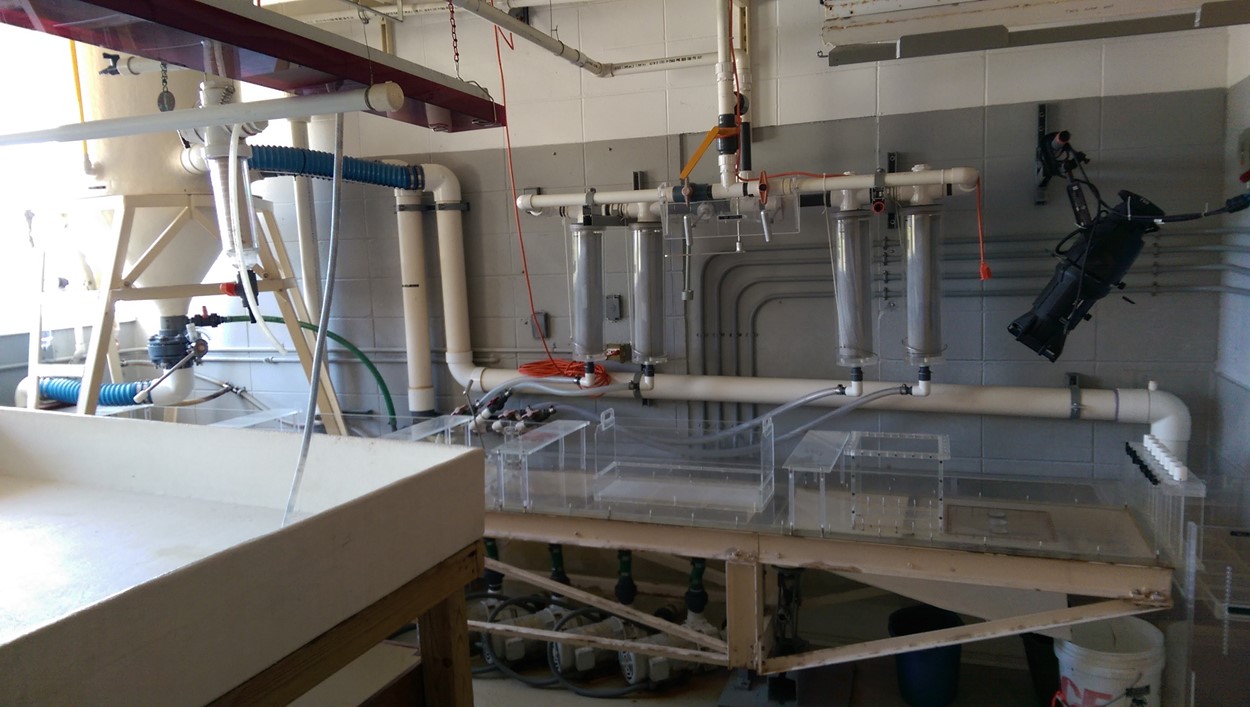 e
Lab 15A - The NECROPSY LABORATORY -  (15 ft x 17 ft) and the classroom space are adjacent, separated by two 36" pocket doors (opening = 72"x 80"). The lab space contains:
Stainless counter, sinks, cabinets, and shelves along one 17-ft wall
Storage cabinets (Three 16"x30"x72") portable free standing
Lab 15B - The Classroom & Zoological Collection  -  described under "Classroom" above
Lab 20 - Contains general use sink and stainless counter space as well as access to the following:
Environmental Chambers- (two chambers, each 7' x 7') provide controls for temperature (2°C- 38°C) and light (with a timer) for conducting experiments. Both rooms contain wet tables.
Getinge Vacuum Steam Sterilizer (Model 533LS)
Water Purification

Ultrapure Water Purification System, Barnstead E-pure
TGI Pure 5-Stage Reverse Osmosis Water Purification System (Model WIN-545P)
Ⅲ. Holding Facilities & Greenhouses
The FSUCML has a holding facility underneath the marine laboratory building for staging use of marine organisms for educational purposes and research and three greenhouses with different arrays of tanks and wet tables for conducting experimental work. The tanks range in size from small re-circulating aquaria systems, to outdoor flow-through tanks, and special use tanks up to 2,500 gallons for holding large animals or large numbers of organisms (see figures below). Tanks are also available that can be set-up on an as-needed basis.
To request use of the tank facilities, send a brief email detailing tank/aquaria needs, duration, and purpose of use to Dr. R. Dean Grubbs (dgrubbs@bio.fsu.edu ). Requests should be made the quarter prior to when the need is anticipated. Once space is assigned, it will be the responsibility of the user to maintain the area and clean the tanks after use. All users are required to present their State of Florida collecting permit (if applicable) and the Animal Care and Use Protocol from their home institution.
The Holding Facility Tank Array (underneath the main laboratory building)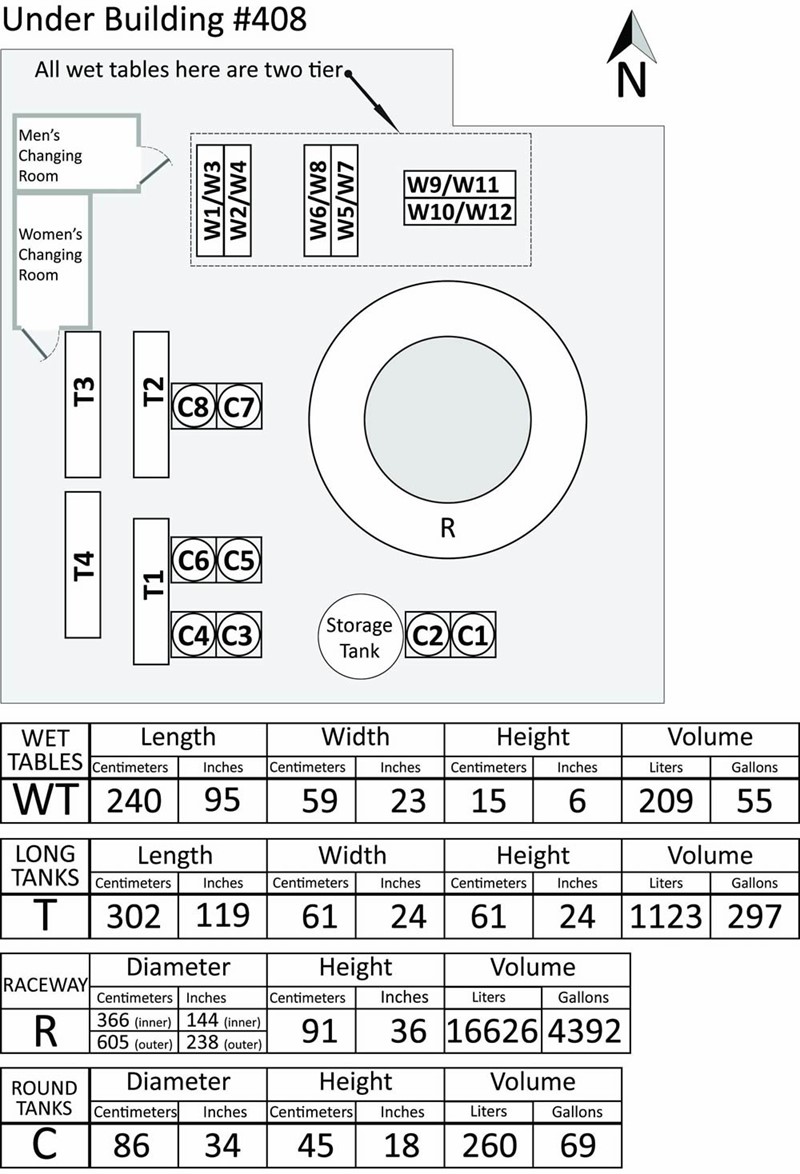 The Greenhouses and Tank Arrays
There are three greenhouses located on property and available for the research needs of the users. Two of these - Greenhouse North and Greenhouse South - are available year round for research. Water systems can operate either as closed or flow through systems. The third greenhouse - the Doc Herrnkind Greenhouse - operates primarily as a teaching lab during the summer. However, it is available at other times for research. Configurations of each greenhouse appear below.
IV. Hazardous Material
Principal Investigators (PIs) are responsible for contacting the Florida State University Office of Environmental Health and Safety for all necessary safety information about handling hazardous or flammable material. In addition, the PI is responsible for:
complying with all aspects of the Florida Right to Know Law by providing all Materials Safety Data Sheets (MSDS) to their project personnel for all materials in all spaces they occupy (Contact Dennis Tinsley to get all required Materials Safety Data Sheets.
arranging for use of radionuclides through the FSU Radiation Safety Office.
providing all the necessary personal safety information and equipment for all individuals handling hazardous materials, including:

appropriate containers and handling equipment that are safety approved and properly labeled
appropriate materials for clean-up and disposal of all materials
instruction in all appropriate safety procedures attendant to the presence of the materials
Facilities
Marine Operations
Need Something?
---
Last Updated: Wednesday, June 13, 2018 at 2:24 PM