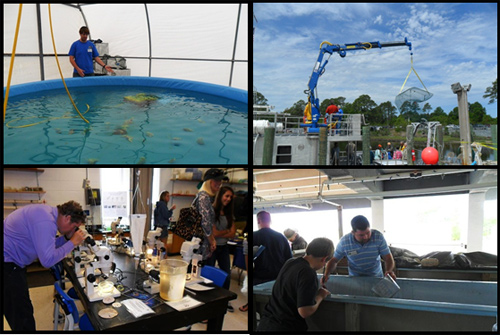 As most of you already know, it was that time again this past Saturday, April 20, 2013. The FSUCML's Biennial Open House event! It only happens every other year and this year's event was no different from the others in that it was a huge success and everyone had a blast. Despite the predicted bad weather (which never came!) and other local events occurring on the same day, we had 1038 people come through the lab between the hours of 10 AM and 3 PM. The crowd included everyone from adults to young children to students. Every single person seemed to be enjoying themselves and learning something! The theme for this year's Open House was "The Ocean of Tomorrow", in which we recognized the importance of scientists from different backgrounds working together to solve problems related to the coastal and marine environments. As it so happened, April 20th was also the third anniversary of the Deepwater Horizon Oil Disaster, so the theme brought to mind the research being conducted by FSU scientists across the university.
As a special treat to our visitors, WPBT2's Changing Seas premiered a new episode from their season 5 series, which featured some of our very own scientists, graduate students, and technicians conducting research on the Deepwater Horizon Oil Spill. This episode, titled "Creatures of the Deep", along with the rest of season 5, had not yet been seen by the public and will not be released to the public until June. We were able to air the episode at three different times with a great turnout at each showing. Changing Seas' series producer, Alexa Elliott, and production assistant, Julie Hollenbeck, discussed how nice it was to have a live audience and get to see and hear their reactions first-hand. They also commented on how intuitive some of the children in the audience were with one particular child asking "How is it possible for scientists to write underwater?" These documentary showings were preceded by two different lectures. The first was given by FSU Department of Biology's Dr. Tom Miller on Barrier Islands of Today and Tomorrow. His lecture was followed up by FSU Department of Earth, Ocean, and Atmospheric Science's Dr. Jeff Chanton on Oil Spill Three Years Later: Food Web Effects. Special thanks go to our AV set-up specialist, Luka Sharron, who seamlessly got each of our presenters set up and ready to go in our auditorium.
In addition to the lectures and documentary showings, we had a lot of other exhibits and activities around the lab. Some of the FSUCML's exhibits included a scavenger hunt for the kids, ROV demonstration, Academic Diving Program (ADP) "dive in the dark" game, displays by our scientists on the work that they do, crafts for the kids, oyster tonging, touch tanks, and tours of the R/V APALACHEE. A new activity that we had for our visitors this year was the FSUCML silent auction. We ended up with a total of 45 items thanks to the many wonderful contributions, all of which were given out. The FSU Coastal & Marine Lab would like to extend its gratitude and sincerely thank all of our sponsors and silent auction contributors that are listed at the end of this page, as well as Croom's shuttle service, auxiliary police, security, and Posey's. In addition, thanks go to the following people for volunteering their time during the entire Open House event and ensuring the day ran smoothly: Heather Barrineau, Kamri - Colvin Reece, August Stone, Jessica Emerson, Kierstyn Tankersley, Tom Henson, Tyler Mertz, Devon Palpallatoc, Elizabeth Fowler, Alec Davis, Ashley Cunliffe, Michael Anderson, Mike Repchak, Alicia Brown, Samantha Bosman, Susan Bulloch, Erika Watson, Nancy Paul, Kathy Huock, Amanda Daughtry, Ryland Taylor, and Meaghan Faletti. The FSU Coastal & Marine Lab hopes you will join us again in two years at our next Open House!
To see more pictures of the event, please visit our Facebook.