WPBT2's Changing Seas "Creatures of the Deep" to Be Premiered at the FSUCML Open House (11 April 2013)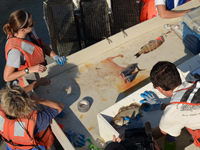 WPBT2's Changing Seas "Creatures of the Deep" documentary will be premiered at the FSU Coastal & Marine Lab's Open House on April 20, 2013. This episode features FSUCML scientists, grad students, and technicians conducting Deep-C related research on the effects of the Deepwater Horizon oil spill on deep sea creatures in the Gulf. This premiere comes at the perfect time with April 20th being the third anniversary of the Deepwater Horizon oil disaster. It is more than fitting with our theme "The Ocean of Tomorrow" in which we recognize the importance of scientists from different backgrounds working together to solve problems related to the coastal and marine environments.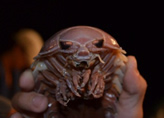 In the cold, deep waters of the Gulf of Mexico, little-known animals spend their entire lives in near darkness, far removed from our human world. Until now, little research has been conducted on these creatures of the deep, keeping much of their lives a mystery. Then, in April of 2010, the Deepwater Horizon oil rig exploded, setting off the largest marine oil spill in the history of the petroleum industry. Roughly 4.9 million barrels of crude oil gushed out of the well at a depth of 5-thousand feet. In the disaster's aftermath, many questions arose about what lives in the deep waters of the Gulf, and how these animals may have been impacted by the oil. To answer these questions, scientists from the Deep-C Consortium's ecology team conduct regular research trips in the area. Watch the trailer.
We hope you can join us at the FSU Coastal & Marine Lab's Biennial Open House on April 20, 2013 from 10 AM to 3 PM and take part in this rare opportunity. We will be airing Creatures of the Deep in the FSUCML Auditorium at the following times: 11:15 AM, 12:30 PM, and 1:45 PM. Each showing will be followed up with a Q&A session with the featured scientists. We look forward to seeing you there!
About WPBT2:
South Florida's premier public broadcaster, WPBT2, is a community-licensed, not-for-profit media enterprise serving communities from the Treasure Coast to the Florida Keys. WPBT2 provides high quality content from PBS, independent acquisitions and its own original productions. WPBT2's digital media platform, offers: 2HD, a 24-hour high definition channel; Digital 2.2, a mix of Science & Nature Channel, The Florida Channel and Create; Digital 2.3, V-me, a 24-hour national Spanish-language network; and www.wpbt2.org, the WPBT2 website including, Impromp2 (a community blog), the WPBT2 Video Player and uVu, a video sharing website.
About Changing Seas:
Changing Seas takes viewers on an exciting journey to the heart of our liquid planet. Narrated by renowned voice talent Peter Thomas, this marine science series lets viewers experience first-hand how oceanographers study earth's last frontier, and sheds light on how human activities are threatening ocean resources. Major funding for this series is made possible by the Bachelor Foundation and Divers Direct. www.changingseas.tv