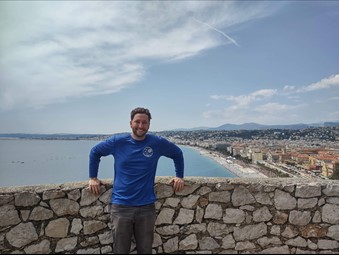 One of the FSUCML's own is graduating this month! Dr. Josh Manning successfully defended his dissertation, "Investigating the foraging, social, and spatial ecology of Caribbean parrotfishes" thus completing his doctoral journey at FSU.
His research investigated the foraging and spatial ecology of several Caribbean parrotfishes to provide a more holistic understanding of their trophic roles on coral reefs. While pursuing his doctorate, Josh was a member of the FSU Fellows Society and the recipient of numerous awards and grants including the William R. and Lenore Mote Eminent Scholar in Marine Biology Summer Research Assistantship, Jack Winn Gramling Research Award in Marine Biology, Matt Beard Award for Excellence in Marine Research, Horace Loftin Endowment, American Museum of Natural History Lerner-Gray Memorial Fund for Marine Research, Guy Harvey Foundation Scholarship, Chateaubriand Fellowship in STEM, Society for Integrative and Comparative Biology Grant-in-Aid of Research, William R. Dawson Award (Society for Integrative and Comparative Biology), Southern Association of Marine Laboratories Margaret Davidson Award, Phycological Society of America Grant-in-Aid of Research, The Mitchell Institute Fellowship, the Margaret Menzel Award, and the International Women's Fishing Association Scholarship.
Josh conducted 439 dives (>500 hours underwater) as a scientific diver at FSU. Most of these dives supported his dissertation work on the coral reefs of Bonaire, a small island in the southern Caribbean where I spent many months conducting research. In addition to all of the time he spent in Bonaire, he spent 4 months in Montpellier, France collaborating with Dr. Simon Benhamou to analyze his parrotfish movement data as part of a prestigious Chateaubriand Fellowship.
His favorite FSUCML memory was seeing a Great Hammerhead shark while diving at Turtle Towers. Fortunately for us, Josh won't be straying too far from the Forgotten Coast, as he will be starting a post-doctoral position in January with Dr. Mariana Fuentes in the Department of Earth, Ocean, and Atmospheric Science at FSU. Congratulations, Josh!!