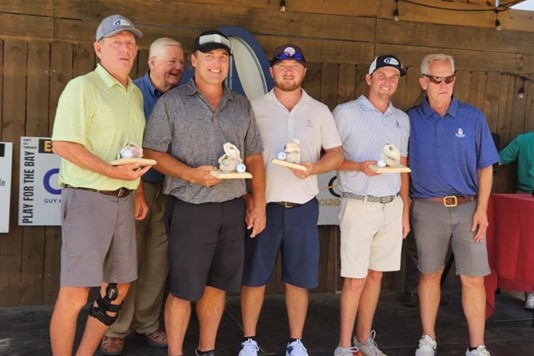 [ST. TERESA, FL] – The Florida State University Coastal and Marine Laboratory and St. James Bay Golf Club successfully kicked off the inaugural Play for the Bay Benefit Golf Tournament on Friday, October 7th.  Twenty sponsors and eighteen teams helped raise over $15K for FSUCML graduate students.
On Friday, October 7th, 2022, the Florida State University Coastal and Marine Laboratory (FSUCML) partnered with St. James Bay Golf Resort to kick off its first annual Play for the Bay Benefit Golf Tournament.  The purpose of Play for the Bay is to raise funds that reach beyond university and grant funding to ensure that sufficient monies are available to continue the mission of FSUCML. With support from twenty sponsors and eighteen teams, $23K was raised.  After all costs of the tournament are accounted for, the FSUCML Graduate Student fund will net over $15,700. This money will go directly to help graduate students purchase lab equipment, boat and truck rentals, fuel, and fund research trips as applicable.
Dr. Joel Trexler, Director of the FSUCML, notes, "These funds are critical to permit graduate students to get into the field and conduct research in our coastal and marine environments. The funds from this event help us continue our education and research mission and attract highly productive and creative students to work with our faculty using FSUCML resources."  
Congratulations to Conner Smith, Stacy Kirvin, Johnny Sheridan, and Stone Cowie for coming in first place with a score of 54. Team members Neil Core, Jay Wolfe, Phil Davis, and Shannon Watson took second place with a score of 57, and Phillip Prince, Ben Kemp, Nate May, and Paul Brown took third with a score of 57 as well.
John Green, owner of St. James Bay Golf Club exclaimed, "We appreciate the opportunity to work with the FSU Coastal Marine Lab and couldn't be happier with the turnout and community support for the event. The course looked great and the weather was just perfect. A great time and a great cause!!" 
The FSUCML would like to extend a huge thank you to John Green and Crooked River Grill for being such gracious hosts. They would also like to extend an enormous thank you to all their wonderful sponsors – (Estuary Level) Guy Harvey Ocean Foundation, Crawfordville Equipment Rental, Golden Construction; (Longest Drive) Air Con; (Closest to Pin) Stone's Aquatic Weed & Algae Removal, Lowe Title Services; (Trail Sponsors) Friends of the FSUCML; (Hole Sponsors) Eli Roberts & Sons, MARPAN Supply, Dodd Title Company, Inc., Centennial Bank, Insure It All, LLC, Prime Meridian Bank, Lew Moore, Mineral Springs Seafood, Eder, Casella & Co., St. Teresa Services, Robert Gates, Coastal Plumbing, Nucycle Energy, and Dan Hartman.
The FSUCML's mission is to conduct innovative, pioneering, interdisciplinary research on coastal and marine ecosystems, to mentor the next generation of problem solvers, and to leverage scientific outcomes and expertise through engagement with stakeholders to optimize marine management and conservation.
To learn more about the FSUCML, visit www.marinelab.fsu.edu. For questions or opportunities on how to get involved, please email Maddie Mahood at mmahood@fsu.edu