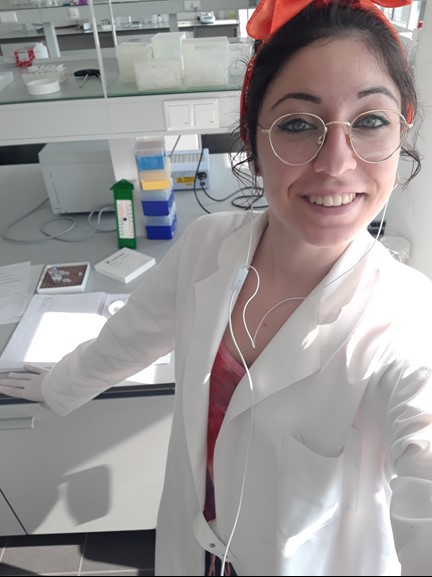 From 27 September to 3 November we were very fortunate to have Gabriella Ella Pantò as a visiting graduate student at the FSU coastal and marine lab! Originally from Sicily, she recently finished her MSc studies in the international program Ocean and Lakes in Belgium. A long-lasting collaboration between the Marine Biology Research Group at Ghent University and Dr. Jeroen Ingels, resulted in Gabriella joining the NOAA Ocean Exploration funded #HydroSMAC cruise on the RV Point Sur in the Gulf of Mexico, exploring the deep sea, and spent three weeks afterwards helping Dr. Jeroen Ingels identify meiofauna samples. We hope she carries on with her passion for marine research and education and outreach! Check out the short and fun Q&A session we had with her in the article below!
GABRIELLA PANTÒ
Q.  Where are you from? What are you currently studying?
     A.  I come from Italy, but I attended a Master's program in Marine and Lacustrine Science and Management (or as we call it, Oceans and Lakes) in Belgium: it is an inter-university program between the cities of Brussels, Gent and Antwerp. 
Q.  What brought you to Florida State Coastal and Marine Lab (FSUCML)?
     A.  The reason why I am at FSUCML is that my supervisor wanted me to do some field work related to my thesis research: although my topic was on Antarctic meiofauna, the HydroSMAC cruise gave me the opportunity to learn the benthic sampling techniques and participate to a campaign where I could experience the life of a marine biologist on a ship. I also decided to stay 3 more weeks in order to help with the sample processing.
Q.  What was your favorite part of the HydroSMAC cruise? Least favorite?
     A.  My favorite part of the HydroSMAC cruise was definitely the multicore sampling and the first steps in processing the samples: it was very interesting to learn how to get samples from deep areas and understand how to work in an efficient way even under challenging conditions. My least favorite part has to be the waiting times: deep sea research requires long waiting times for the multicore to reach the sea bottom, which ends up being sometimes more tiring than the work itself. 
Q.  What's the most interesting thing you've seen or encountered since being in America?
    A.  Among the several differences I noticed between the U.S. and Europe, I think the most bizarre thing I witnessed is how normal it is for people to see an alligator: they talk about it as we would talk about cows, and it surprises me all the times. Of course, frozen pasta meals also surprised me (and scared me at the same time). 
Q.   What are your plans once you return to Belgium?
   A.  In the next few months I will be working on a paper based on my master's thesis. Unfortunately some bio-molecular results were not ready on time to be included in my thesis, thus I will be working on the last samples and complete the paper, which will probably be published in 2020.
Q.  Finally, what is your favorite Species?
   A.  This is tough. Among meiofauna, I think my favorite species is a Copepod called Pontellina Plumata: I fell in love with it while I was working on my Bachelor's thesis. In the Marine world in general, I have always been fascinated by octopuses: they are considered the smartest invertebrates in the world, capable of blending in with the environment and developing complex survival techniques.