Scientific Diving has been taught at Florida State University since the inception of the Academic Diving Program in the 1970's.  Thanks to the work of FSU faculty including Dr. William F. "Doc" Herrnkind, a training program evolved focused on enabling student, faculty and staff research diving operations.  January 9th, 2019, marks the 3rd time the training will be conducted under Diving Safety Officer Christopher Peters in a workshop entitled Introduction to Scientific Diving.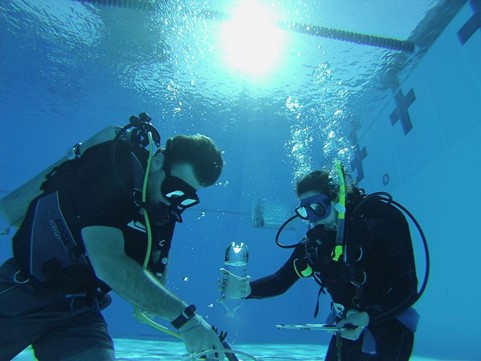 The last Scientific Diving workshop wrapped up in May 2018 with the successful graduation of nine new Scientific Divers.  This year, seven graduate students and four undergraduate students have been selected to participate in four-months of intensive training.  Successful participants will earn PADI certifications as Emergency First Responders, Enriched Air Divers and Rescue Divers.  Most significantly, they will become Scientific Divers under the American Academy of Underwater Sciences (AAUS) and earn authorization to conduct underwater research at FSU and other scientific institutions around the world - in 2018, Scientific Divers from FSU logged scientific dives in France, British Columbia, French Polynesia, Bonaire, and Belize.   
The workshop will include weekly trainings in Tallahassee and travel on the weekends to dive sites around north Florida in both freshwater and marine environments.  Classroom sessions will be held at the WFSU Station in Tallahassee and will include guest lectures from FSU's most accomplished underwater researchers.  In years past, this has included biologists Doc Herrnkind, Dr. Chris Koenig, Dr. Sandra Brooke and Dr. Don Levitan, who joined the class to discuss applications of SCUBA in their own research; archaeologist Dr. Jessi Halligan, who gave a presentation on the history of underwater archaeology; and Gregg Stanton, former FSU DSO and owner of Wakulla Dive Center who shared memories of his long and diverse diving career and his thoughts on the future of diving technology.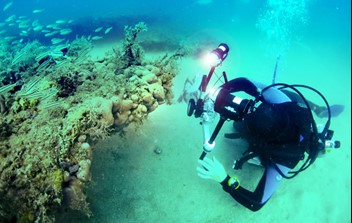 Underwater training sessions take place at the state-of-the-art Morcom Aquatics Center, and then move to field sites intended to challenge the diver's ability to conduct research in a field setting.  Potential hazards and stressful situations are simulated including equipment malfunctions, entanglements and disorientation.  "Diving is unavoidably hazardous," declared Peters.  "That's why quality training is so important.  We prepare our divers to manage a variety of unexpected and otherwise dangerous situations safely."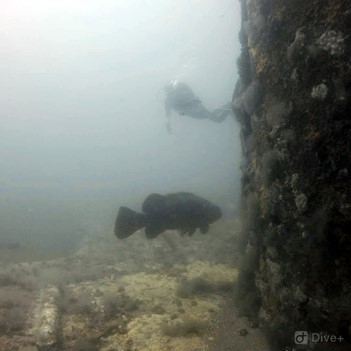 Dive sites are diverse and include Wakulla Springs State Park and reefs offshore of Florida State University Coastal and Marine Laboratory (FSUCML).  Training is tailored to the students' varying research aspirations.  A portion of last year's class completed a day of drift dives on the Wakulla River and recovered artifacts under the supervision of the Florida Bureau of Archaeological Research; others worked from small boats in the Gulf of Mexico to identify fish and invertebrates on the limestone reefs surrounding Dog Island. 
For the grand finale, the class will join members of FSU's Diving Control Board - the entity that establishes FSU's policies of for scientific diving - on an offshore diving charter aboard the FSUCML's R/V Apalachee.  Divers will be tasked with mapping benthic features, surveying fish and invertebrate communities, and responding to in-water rescue scenarios.
"It's a privilege to be a member of this program." said Peters. "Some of them will go on to accomplish great things.  Helping them take this step in their careers is something we can be really proud of."