Florida Sea Grant Scholarship Awards
---
Florida Sea Grant Scholarship Awardees
Aylesworth Foundation Scholarship Recipients
2018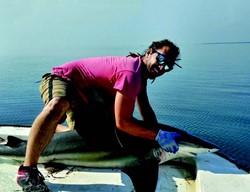 Congratulations to Bryan Keller, 2018 Aylesworth Scholarship Award winner.  Bryan will use the grant funds to help support his research on the seasonal migrations of coastal sharks.  His work is focused on determining if  coastal bonnethead sharks use magnetic-based navigation, which is common in other marine animals like sea turtles.  Learn more about the Aylesworth Scholarship program through Florida Sea Grant.
Florida Sea Grant Scholars
2017 -
Bryan Keller  (Ph. D. student, EOAS. Advisor Dr. Dean Grubbs)
Abbey Engleman (Ph. D. student, FSU Deparment of Biological Science.  Advisor Dr. Sandra Brooke).  .
Guy Harvey Scholars
2018 - Barry Walton (07/18 - Ph.D. Student, EOAS).  Reproductive biology and behaviors of two marine catfish species (Ariopsis felis and Bagre marinus) in Apalachicola Bay
2015 - Chris Malinowski (Ph. D. student, Biological Science) and Brendan Talwar (MSc. student, Biological Science) 
2014 - Bianca Prohaska (Ph. D. student, FSU Department of Biological Science) 
2013 - Robert Ellis and Johanna Imhoff (Ph. D. students, FSU Department of Biological Science) 
2011 - Cheston Peterson (Ph. D. student, FSU Department of Biological Science)  
John Knauss Marine Policy Fellow
2019 - Bianca Prohaska (Ph. D., advisor Dr. Dean Grubbs, FSUCML)
2017 - Brendan Talwar (MSc., advisor Dr. Dean Grubbs, FSUCML) 
2016 - Alexandra Harper (Ph. D., advisor Dr. Jeff Chanton, EOAS)
2015 - Robert Ellis (Ph. D., advisor Dr. Felicia Coleman, FSUCML) 
---
Last Updated: Monday, February 25, 2019 at 12:40 PM