Florida Sea Grant Scholarship Awards
---
Florida Sea Grant Scholarship Awardees
2020 John Knauss Marine Policy Fellow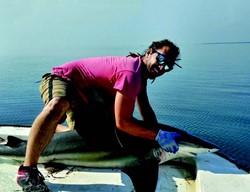 Congratulations to Bryan Keller, 2020 John Knauss Marine Policy Fellow.  As a 2020 John A. Knauss Marine Policy Fellow Bianca will be working for National Oceanic and Atmospheric Administration (NOAA)'s Ocean and Atmospheric Research International Activities Office in Washington D.C. The Sea Grant Knauss Fellowship provides a unique educational and professional experience to graduate students who have an interest in ocean, coastal and Great Lakes resources and in the national policy decisions affecting those resources. The Fellowship, named after one of Sea Grant's founders, former NOAA Administrator, John A. Knauss, matches highly qualified graduate students with "hosts" in the legislative and executive branch of government located in the Washington, D.C. area, for a one year paid fellowship.  Bryan hopes to be in a fisheries office working on management issues.   
Aylesworth Foundation Scholarship Recipients
Florida Sea Grant Scholars
2017 
Bryan Keller  (Ph. D. student, EOAS. Advisor Dr. Dean Grubbs)
Abbey Engleman (Ph. D. student, FSU Department of Biological Science.  Advisor Dr. Sandra Brooke).  .
Guy Harvey Scholars
2018 - Barry Walton (07/18 - Ph.D. Student, EOAS).  Reproductive biology and behaviors of two marine catfish species (Ariopsis felis and Bagre marinus) in Apalachicola Bay
2015 - Chris Malinowski (Ph. D. student, Biological Science) and Brendan Talwar (MSc. student, Biological Science) 
2014 - Bianca Prohaska (Ph. D. student, FSU Department of Biological Science) 
2013 - Robert Ellis and Johanna Imhoff (Ph. D. students, FSU Department of Biological Science) 
2011 - Cheston Peterson (Ph. D. student, FSU Department of Biological Science)  
John Knauss Marine Policy Fellow
2020 - Bryan Keller  (Ph. D. student, EOAS. Advisor Dr. Dean Grubbs)
2019 - Bianca Prohaska (Ph. D., advisor Dr. Dean Grubbs, FSUCML)
2017 - Brendan Talwar (MSc., advisor Dr. Dean Grubbs, FSUCML) 
2016 - Alexandra Harper (Ph. D., advisor Dr. Jeff Chanton, EOAS)
2015 - Robert Ellis (Ph. D., advisor Dr. Felicia Coleman, FSUCML) 
---
Last Updated: Friday, August 30, 2019 at 11:51 AM