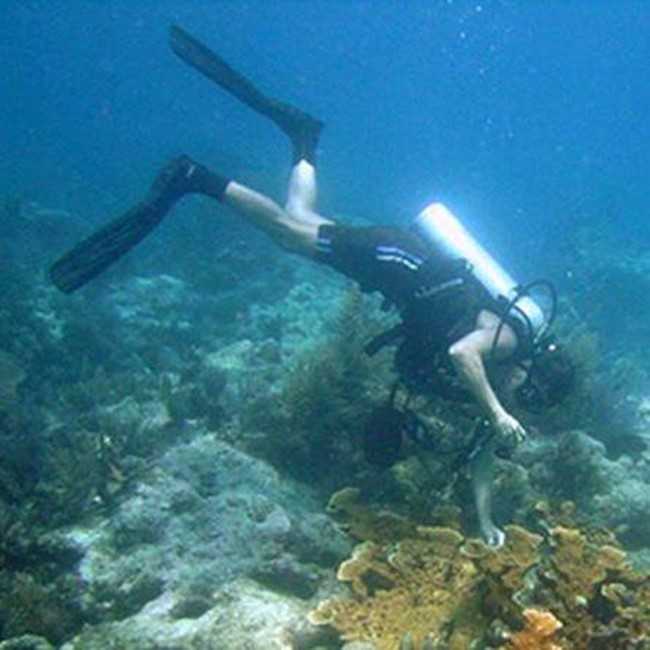 The Matt Beard Award for Excellence in Research
The FSUCML, with advice from the FSU Dive Control Board, gives an award at least every other year to the student who best exemplifies dedication as a researcher to using diving as a tool and devotion to the FSUCML scientific diving community beyond their personal research by helping fellow divers in the field and by supporting the FSU Dive Program.
The person selected for this award embodies all that Matt Beard exemplified as a student of marine science and as a member of the FSUCML scientific diving community. Matt is remembered in this way for his deep love of science and for the conservation of corals.  
Mason B., M. Beard, MW Miller. 2011. Coral larvae settle at a higher frequency on red surfaces. Coral Reefs 30(3):667-676  DOI: 10.1007/s00338-011-0739-
____________________________________________________
TO DONATE TO THE MATT BEARD AWARD, CLICK HERE:
(1) Select the MARINE LAB FUND (F06549);
(2) Fill out all information required to make a donation
(3) Under the last section "In Memory/In Honor" , enter "MATT BEARD" under Name and select from the dropdown "In Memory of".
You can also donate by sending a check to the FSU Coastal and Marine Lab |3618 Coastal Highway 98 | St. Teresa, FL  32358. Make the check out to the FSUCML Foundation and in the memo indicate that it is for the Matt Beard Award.
---
Past Recipients

2019 - Josh Manning (Ph.D. student, Biological Science, Advisor: Dr. Sophie McCoy) received the 2019 Matt Beard Memorial Award for Excellence in Research. The major goal for Josh's dissertation research it so determine the effects of spatially constrained herbivory by parrotfishes on community assembly processes on coral reefs. Constrained herbivory in parrotfishes because of territorial interactions among conspecifics could increase open space suitable for coral recruitment, thus enhancing reef recovery.
2018 - Ethan Cissell - Ethan's research focuses on the interactions between endolithic bacteria and crustose coralline algae especially nutrient enchanges between the endolithic community and the host coralline, impacts of nutrient exchange on host ecology and bioerosion of the living host.  
2017 - Abbey Engleman - Abbey's research looks into the significance of texture in coral recruitment and the application in restoration efforts.  By combining characteristics that attract coral settlement with features known to enhance survival to recruitment, substrates can be designed to optimize the percent of larvae that recruit to a reef, improving restoration efforts and kick-starting ecosystem recovery.  To read more about Abbey's research https://fsumarinelab.wordpress.com/2017/08/14/can-3d-printed-corals-enhance-larval-recruitment-to-degraded-reefs/
---
Last Updated: Tuesday, April 14, 2020 at 2:03 PM