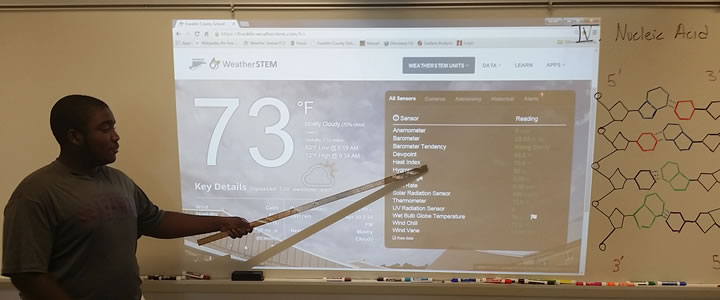 When Ed Mansouri was just 6 years old, he developed a fascination with weather. Still an unabashed meteorology enthusiast, Mr. Mansouri, CEO and Founder of UCOMPASS, a Tallahassee-based company that pioneers education technology, went on to develop the WeatherSTEM, which integrates weather stations, collected and distributed atmospheric data, and STEM-based education. Mr. Mansouri's hope is to make ordinary weather information intriguing and introduce students to science using real data.
WeatherSTEM units are full service weather stations that measure wind conditions, humidity, rainfall, and much more. Many have live cloud-view web-cameras that curious folks can use to observe weather in real time from their computer or other device. The WeatherSTEM package also includes K-12 curriculum with a focus on the atmospheric sciences and agriculture/gardening. The lessons in the curriculum range from the effects of oil spills, to building your own thermometer, to sustainable land use. The live data collected by the WeatherSTEM units plays an integral part in the curriculum activities, all of which can be accessed online.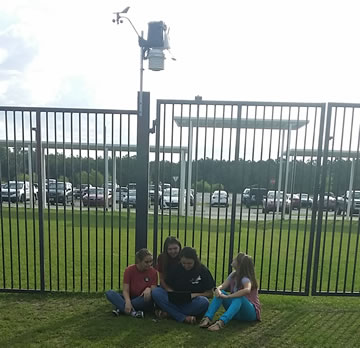 Last July, Mr. Mansouri donated a new WeatherSTEM unit to the FSU Coastal & Marine Laboratory (FSUCML). He then refurbished and installed the old unit at Franklin County School in Eastpoint. With WeatherSTEM in place, not only can students access all of the features the unit has to offer, but residents in the local area can use it to view live weather via the cloud-camera, or check to see if lightning is striking nearby using the "ZapMap".
"Integrating live data and images into STEM curriculum from weather stations set up at schools and research sites across the State of Florida is WeatherSTEM's innovative mission.  We couldn't be more excited to see this taking shape with the addition of two units in Franklin County at the FSU Coastal & Marine Laboratory and the Franklin County School," says Mr. Mansouri. "WeatherSTEM's myriad of interesting educational and informative features and social weather integrations is proving valuable not only for students and teachers, but for the entire community." 
Check out the two WeatherSTEM units in Franklin County: