The U.S Air Force tower N7 (also known as K-Tower) provides researchers, fishermen, boaters, and the local community with important oceanographic data. The tower is equipped with atmospheric and oceanic instrumentation, through which data is transmitted in real-time to the Florida State University Coastal & Marine Laboratory (FSUCML) and then to the Center for Oceanic and Atmospheric Prediction Studies (COAPS) on the main FSU campus for processing and publishing on their website. Atmospheric data is collected from 19 meters and 30 meters above sea level, and oceanic data is collected from 3, 9, and 18 meters below sea level. Measurements include relative humidity, atmospheric pressure, wind speed, water salinity, and wave height.
Monitoring at K-Tower began in November 2007, as a part of FSU's component of Northern Gulf Institute's integrated research program for the Northeast Gulf of Mexico. The purpose of this project was to interweave large-scale ecosystems modeling with real time oceanographic, meteorological, and ecological observations. The data was to be used to address the more pressing environmental issues of the region, ranging from hurricane prediction to natural resource management. In 2011, funding for the monitoring station at K-Tower was transferred to the Gulf of Mexico Ocean Observing System (GCOOS).
Stephanie White spearheaded this project until late 2012, at which point she left FSU and Kevin Speer (Earth, Ocean & Atmospheric Sciences (EOAS) took responsibility. Oversight of the instrumentation at K-Tower is divided between Jeremy Rolph (COAPS), who manages the meteorological instrumentation and near-real time data stream to the COAPS website, and Cathrine Hancock (Geophysical Fluid Dynamics Institute), who oversees the oceanic instrumentation.
"Our current goal is to keep this monitoring site up and running, which is proving difficult with the recent loss of funding from GCOOS. We are currently researching other funding sources; however should we fail we'll have to remove all instruments within the next 6-8 months. That would be a terrible loss, not only to the local fishing and boating community, but also to the scientific community through the discontinuation of a 7-year long data collection time series," Catherine Hancock explains.
The K-Tower monitoring system plays an important role not only to researchers and others in academia, but it also serves the local community as well, including boaters and fishermen who use the data to track ocean conditions and predict where fish populations may be located.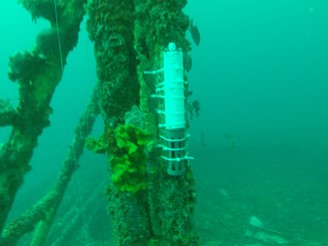 Dr. Sandra Brooke, FSUCML faculty, is currently studying coral growth and reproduction in the Florida Panhandle. This region has a more variable and extreme environment than areas such as the Florida Keys, where the same species of coral occur. Dr. Brooke hopes to determine how temperature affects coral growth rates. Corals in the Big Bend Region experience much colder temperatures in the winter, so Dr. Brooke hypothesizes that their growth will slow during colder periods, but the slightly cooler summer temperatures may not induce the bleaching and heat stress often observed in corals that live further south. Comparing in situ growth rates of the same species under different temperature regimes provides insight into how human-induced or natural changes may affect these important species.
The K-tower instruments have provided a very valuable long term source of environmental data for this study, and for many other scientific and educational projects as well as being a useful public resource.