It only takes one look at the Florida State University Office of Research website to realize that research in the time of COVID-19 is flourishing at FSU.  The FSU Coastal & Marine Laboratory, one of the research centers in that office, is no exception. Indeed, Dr. Joshua Breithaupt recently joined the FSUCML faculty and the Apalachicola Bay System Initiative research team studying the Bay and poised to develop both restoration and management plans to support its recovery.
With a research focus on coastal ecosystems and background in oyster reef research, Breithaupt is a perfect fit for this endeavor. He seeks to answer questions related to the origins, development and transformation of these delicate habitats, particularly in the context of global change. Along the Forgotten Coast, seagrass meadows, muddy shorelines, and oyster reefs make-up a large portion of the coastal ecosystems. These are the habitats that draw his attention.
"I've been fortunate to participate in collaborative, multi-disciplinary science efforts in other iconic Florida landscapes like the Everglades and Indian River Lagoon system and I'm impressed with the same broad vision and opportunity for ABSI." - Dr. Breithaupt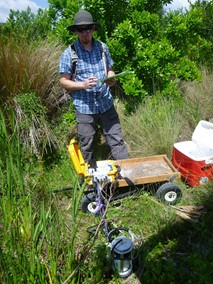 He is most looking forward to working alongside various stakeholders to gain familiarity with the Apalachicola Bay system.  Over the next few months, he plans on getting to know the people who are already working in the Bay, and to setting up his lab so that he can begin observing and collecting samples. Initial research ventures that have piqued his interest include developing a regional shell budget to quantify factors that may contribute to shell loss and vulnerability of oyster reefs, as well as examining how sequestration of organic carbon and nutrients have changed in riverine and coastal wetlands over the past century.
To learn more about Dr. Breithaupt or to contact him about research opportunities, visit his website here:  Josh Breithaupt