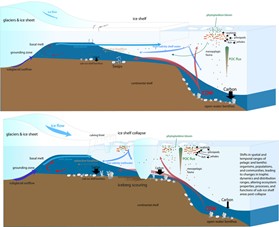 After three years of research, analysis and collaboration, Dr. Ingels and a team of international scientists have released their latest study, "Antarctic ecosystem responses following ice-shelf collapse and iceberg calving: Science review and future research," which takes a detailed look into what is currently known about ice-shelf associated ecosystems prior to and following ice-shelf collapse, major knowledge gaps, and finally, how the international scientific community might address these unanswered questions in future research.
The discussions that led to this work started at a 2017 National
Science Foundation funded "Workshop on Antarctic Ecosystem Research Following Shelf Collapse and Iceberg Calving Events" that was held in an effort to educate the public and scientific communities on the continent-wide changes polar ecosystems are facing in response to the changing climate.  Nearly 40 international researchers, including Dr. Ingels, participated in this workshop, bringing together expertise in Antarctic biological, ecological, and ecosystem sciences to share knowledge, identify important research priorities and knowledge gaps, and outline plans for further Antarctic studies.
Following this workshop, a team of FSU researchers, Dr. Ingels, Dr. Emily Dolan, Dr. Heidi Geisz, and Barbara Shoplock developed the FSUCML Polar Academy AntICE Team to introduce local high school, middle school, and elementary school students to the many issues Antarctic ecosystems are facing. Over the course of several months, the AntICE Team reached over 200 'Polar Ambassadors' and through presentations, case studies, scientific methodology and personal experience, the students dove deep into the structure of polar ecosystems, the unique flora and fauna that inhabit regions, and how they are being affected by climate change.  Following these presentations, the newly inducted 'Polar Ambassadors' created displays, dioramas, sculptures, videos, and online media to demonstrate these concepts and ideas.