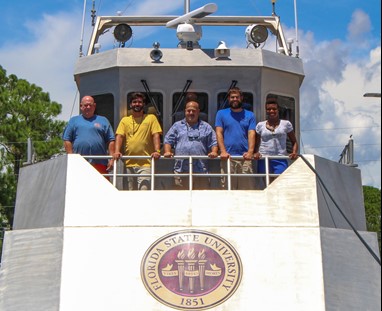 It has been an extremely busy season for the Marine Operations team at the FSUCML. The Academic Diving Program has taught several diving workshops which have drawn students from as far away as Nebraska. The R/V Apalachee has had a busy season as well, completing over a dozen missions since May. Our fleet of small boats has been equally busy, providing research opportunities for students and faculty from FSU as well as around the country.
One of the major reasons for Marine Operations' success is the hard work of its team members. The Marine Operations team has several new members who bring a wide array of knowledge and skills to the lab. Please meet our new Marine ops team members.
Chris Matechik, the lab's new Marine Technician, grew up in Navarre, FL. He earned his bachelor's degree from Florida State University in the Department of Biological Science where he completed an internship at the FSUCML under the supervision of Dr. Felicia Coleman & Dr. Christopher Stallings. He then earned a master's degree at Auburn University in Fisheries Science. Chris is a talented musician and can often be found playing his banjo and singing at various venues along the forgotten coast.
Matt Edwards, our new Small Boat Technician, hails from Southport, NC, where grew up on (and in) the water. Matt is a U. S. Coast Guard Licensed boat captain and is currently in the process of upgrading his license to 100-ton status. Matt has worked in a wide variety of marine occupations, from clam harvester and professional fishing guide to mechanic for a fleet of rental boats. While unwilling to admit it, Matt is also an awesome pizza chef.
Dionne Wilson, the new Diving Technician, is a native of Silver Springs, Maryland, and graduated with a degree in Environmental Science from Texas A&M University. Dionne has worked as an elementary school teacher as well as being an educator at the National Aquarium in Washington, DC. Dionne has been diving for over eight years and recently returned to the United States from Utila, Honduras, where she underwent rigorous advanced dive instructor training.
Ephey Priest is a new Captain aboard the R/V Apalachee. Ephey hails from the Outer Banks of North Carolina from the small town of Manteo. He has been a boat captain for over thirty years and has extensive boating experience, currently holding a U. S. Coast Guard 100-ton license. Capt. Priest has worked as a commercial fisherman up and down the east coast of the U.S. He also captained a live aboard dive boat in the Bahamas and Belize for over a decade. Prior to coming to the marine lab, Ephey worked in the oil fields off the coast of Texas and Louisiana where he ran crew boats to the oilrigs. Ephey is an avid traveler and has visited Thailand, the Philippines, and has traveled extensively throughout the Caribbean.