Current Award Recipients (FY2020)
2020 John Knauss Marine Policy Fellow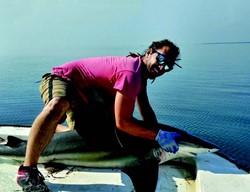 Congratulations to Bryan Keller (Dept. Earth Ocean & Atmospheric Science. Advisor: Dr. Dean Grubbs), 2020 John Knauss Marine Policy Fellow.  As a 2020 John A. Knauss Marine Policy Fellow Bryan will be working for National Oceanic and Atmospheric Administration (NOAA)'s Ocean and Atmospheric Research International Activities Office in Washington D.C. The Sea Grant Knauss Fellowship provides a unique educational and professional experience to graduate students who have an interest in ocean, coastal and Great Lakes resources and in the national policy decisions affecting those resources. The Fellowship, named after one of Sea Grant's founders, former NOAA Administrator, John A. Knauss, matches highly qualified graduate students with "hosts" in the legislative and executive branch of government located in the Washington, D.C. area, for a one year paid fellowship.  Bryan hopes to be in a fisheries office working on management issues.   
2019 Guy Harvey Scholarship,  the American Museum of Natural History Lerner-Gray Memorial Fund for Marine Research and the Matt Beard Scholarship - Josh Manning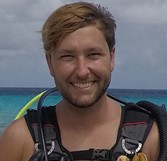 Congratulations to Josh Manning (Dept. Biological Science. Advisor Dr. Sophie McCoy) for receiving the 2019 Guy Harvey Scholarship, the American Museum of Natural History Lerner-Gray Memorial Fund Award for Marine Research and the Matt Beard Award. The major goal for Josh's dissertation research it so determine the effects of spatially constrained herbivory by parrotfishes on community assembly processes on coral reefs. Constrained herbivory in parrotfishes because of territorial interactions among conspecifics could increase open space suitable for coral recruitment, thus enhancing reef recovery. Additionally, differences in food preferences, foraging behavior, and feeding mode (scraping/excavating) among different parrotfish species could result in drastically different patterns in benthic community structure and bioerosion on coral reefs. Josh will be using acoustic telemetry to track parrotfish movements on fringing coral reefs in Bonaire. He will use these movement data and data on foraging behavior to quantify inter- and intra-specific patterns in foraging among parrotfishes at multiple sites. Josh will quantify the effect of these foraging patterns on benthic community composition and bioerosion using high-resolution 3D structural models of the benthic community at each site. The results of this work will be communicated with marine park managers at STINAPA Bonaire to help inform management decisions to protect their coral reefs.   
2019 FSUCML Coastal & Marine Conservation Student Research Award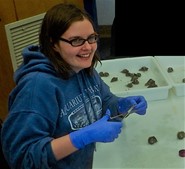 Congratulations to Alex Hooks (Ph.D. student, Dept. Biological Science. Advisor: Dr. Scott Burgess) for being awarded the 2019 FSUCML Coastal and Marine Conservation Student Research Award.  This award is given to the student whose research best exemplifies protection and conservation of coastal and marine habitats, protection of ecologically and economically important marine species; and/or supports sustainable fisheries. Her research is on the reproductive success of the voracious oyster predator, the Florida crown conch (Melongena corona),  which has precipitated significant losses of oysters and oyster reefs and is clearly both a management and conservation problem. Information that might reduce outbreaks of this species will prove invaluable to oyster habitat restoration, ecosystem recovery, and to industries that depend on healthy oyster populations. 
---
Last Updated: Friday, February 7, 2020 at 5:46 PM