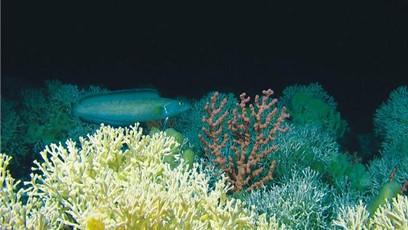 Dr. Sandra Brooke (FSUCML faculty) recently participated in the FATE project research cruise in Tromsø, Norway.  Sponsored by IMR(Institute of Marine Research) and NINA (Norwegian Institute for Nature Research), the goal of FATE is to research the changing environmental conditions, such as ocean acidification, on cold-water coral reef ecosystems. Dr. Brooke and her colleagues collected samples of their target species, including reef-building coral, Lophelia pertusa.
Over ten days, the cruise visited Røst Reef, the world's largest known Lophelia pertusa reef, which is protected under the Norwegian Marine Resources Act. They surveyed and collected samples of sponges, Lophelia pertusa, and other species using remotely operated vehicles (ROVs). Afterward, they deployed samples of their target species at monitoring stations, called benthic landers, located in Hola, to observe over the next year. After a year, they will re-collect and study the samples to determine the effects increased temperatures, acidification, and drilling are having on these cold-water reefs.
Learn more about Dr. Sandra Brooke and her other research projects here.