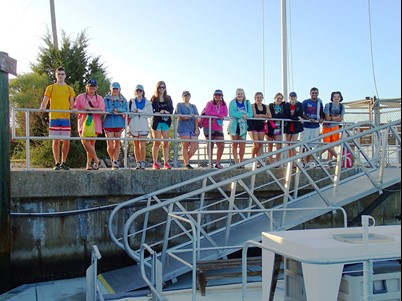 For 15 years Ken Leach has taken his Oceanography students from North Gwinnett High School to the Florida State University Coastal and Marine Lab. "If you teach Oceanography, your students need to see the ocean," says Ken Leach. North Gwinnet High School (NGHS) is located in Suwanee, Georgia, which is about 4 hours away from the Atlantic Ocean. Ken believes this trip is vital to his students' education and each year he brings about 10-20 students to participate in various hands-on activities to enrich what he teaches in the classroom.
Ken advocates for experiential learning when teaching this kind of material because it works. When the students get back from this trip, "they learn 100 times more than when they're sitting in the classroom memorizing names. Here the students get to see and touch the marine life. They're able to take what they learn and apply it," says Kimberly Valentino. Kimberly is a former Marine Science teacher at NGHS who volunteers her time on these trips, photographing and documenting the experience.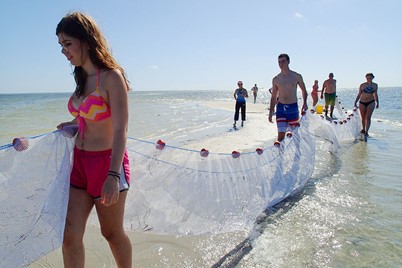 Because FSUCML is embedded in one of the richest biodiversity hotspots in North America, the students have a unique opportunity to interact with a variety of species. After spending the day on the water, trawling for marine life, one student exclaimed "It was the best day of my life!" Some of the species they found during their trawl were: flounder, pufferfish, scallops, cowfish, seahorses, horseshoe crabs, hermit crabs, and the Florida state shell—the horse conch. So, what else did this 3-day trip entail?
Kayaking on the Wakulla River through T-N-T Hideaway Rentals.
Trawling off Turkey Point and Lanark Village
Chumming for sharks
Shoal discovery walks
On the last night of the trip, Ken reserves a special activity for his students—a bioluminescence tour. The bioluminescent activity is a favorite for the students, during which certain marine species, such as dinoflagellates and comb jellyfish, appear to light up in the water. While packing their suitcases, students recounted memories and agreed that this was one experience they would never forget.
Interested in bringing your group to our lab? Check out our facilities and make an appointment.