From Across the Spectrum, Florida State University's College of Arts and Sciences magazine.
- by William Lampkin
Florida's coastal waters — as well as Florida State University students — will be the beneficiaries of a $100,000 gift to the FSU Coastal and Marine Laboratory.
FSU alumni Tommy Warren and Kathy Villacorta's gift creates the Coastal and Marine Conservation Student Research Endowment to provide support for graduate student research into protecting and conserving coastal and marine habitats, ecologically and economically important marine species, and sustainable fisheries.
"There's a lot going on out there," Warren said. "Like the canary in the coal mine, the health of the Gulf tells us a lot about what's going on around the planet. These scientists are at the cutting edge of that. (Their research) is important for, in our view, trying to make the planet a better place. And graduate students fit into that overall plan."
Florida's coastal waters have been an important component of Warren's life. He grew up in South Florida, spending a lot of time outdoors fishing and hunting.
"I always was impressed with the ocean," Warren said. "When I was 15, I had scuba gear, and we'd scuba dive in the Keys, snorkel, catch Florida lobster with our hands, and all that stuff.
"We were up close and personal with coral reefs as far back as I can remember. To think that those are now on their way out in our area — and in other parts of the world, too — is not just sad, but sends a message that there's something badly out of kilter with the planet. The sooner the factors can be determined what's going on, hopefully the sooner something can be done to turn that all around."
Warren attended FSU on a football scholarship, playing quarterback in the late 1960s. He earned a B.S. in business from FSU in 1970 and graduated from FSU's College of Law in 1973. He is a civil rights lawyer in Tallahassee. Villacorta graduated from FSU in 1974 in psychology and mass communication, and from the College of Law in 1976.
Warren and Villacorta have a house near the Marine Lab, where their family has continued to enjoy aquatic activities, including fishing and boating. That's how they became aware of and interested in the Marine Lab. Warren has served on the lab's board for two years.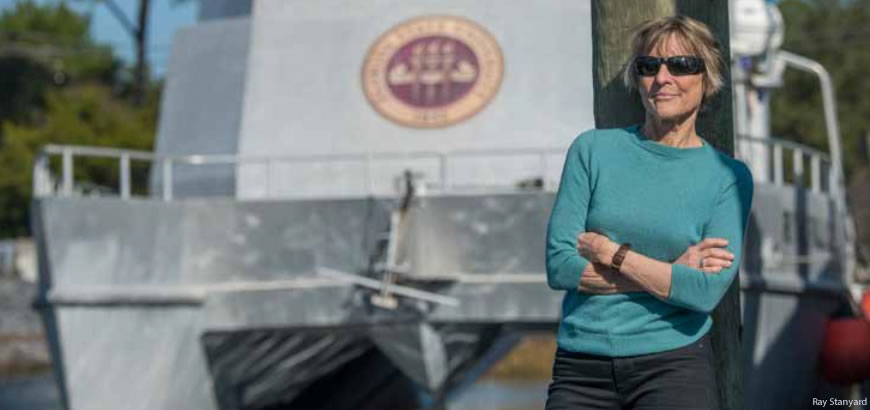 The Marine Lab board has been very interested in getting students involved in research, says Felicia Coleman, the lab's director. "Particularly right on site."
The lab is about an hour's drive from FSU's main campus. "So to attract students," Coleman said, "we provide free transportation and dormitory space, and for the last few years, graduate scholarships to help fund their research conducted at the lab."
The board "has generously donated scholarship money for graduate students for the past five years," Coleman said. "Tommy and Kathy's contribution is the first outright gift to establish an endowment."
The couple "had given a similar type of scholarship to the law school," she said. "So they already had a sense that this was something that they wanted to do, and when they suggested it to us, I just thought it was a wonderful idea."
(In 2004, Warren and Villacorta donated $100,000 to establish the Calvin Patterson Civil Rights Endowed Scholarship at the College of Law, and gave another $100,000 to that endowment in 2011.)
Coleman hopes to award the first scholarship for the summer 2016 term.
"It's the most substantial donation the Marine Lab has received," she said. "With the endowment, we will be funding graduate students in a very substantive way."
Ocean research wasn't the only factor behind the couple's gift. They also wanted to help students. As part of the gift agreement, the College of Arts and Sciences will provide tuition waivers for the first five years, which can be extended by the dean following a review by the Marine Lab.
"It's about giving an opportunity to people who are in a situation similar to the one I was in," said Villacorta, who also grew up in South Florida.
"When I was an undergrad, I lived in a scholarship house," she said. "I borrowed money for tuition. I worked three jobs, and I didn't have a car. I was taking the bus out to Montgomery Ward, and then getting a ride back because the bus service didn't run after I got off work. I worked for a professor, and I babysat."
"It's kind of win-win, in that there's something that we can be doing to support the goals of the Marine Lab, but also providing some kind of financial support to students," Villacorta says.
Coleman echoes those sentiments. And, she says, the gift provides an opportunity for a graduate student to concentrate on developing her or his own research, without the diversions that come from relying on unrelated sources of funding.
"By having a research assistantship, a lot of that problem is solved for them," Coleman said. "It gives them the freedom and opportunity to focus completely on what they hope will be their life's work."
And the tuition waivers from the College of Arts and Sciences "provide more bang for the buck, which was our hope," Warren said. "It will provide more resources, help the lab expand, and hopefully, get a little snowball effect going here."
Villacorta says that they hope the endowment "opens doors for students who might not otherwise have even considered that (research) was an option for them."
Warren added, "I mean, the whole idea — and, of course, this is supposed to be the university's mission in general — is to produce people who go out and help the world become a better place."