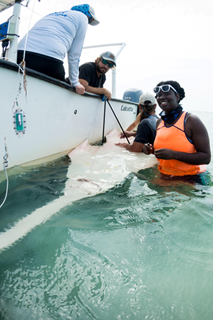 New research led by former FSUCML graduate student Jasmin Graham from Dr. Dean Grubbs' lab sheds light on large-scale movements and migration in smalltooth sawfish, a critically endangered species. In collaboration with researchers from NOAA, FWC and NASA, the team tracked the movements of 43 large juvenile and adult smalltooth sawfish for up to three years. Sawfish tagged near Key West were detected as far north as off Georgia and the Florida Panhandle. The study showed that areas designated as Critical Habitat for small juvenile smalltooth sawfish, Everglades National Park and the Caloosahatchee and Peace Rivers, are also important for adult sawfish. However, the study also suggests important habitat for larger smalltooth sawfish exists in several other regions such the deeper areas along the edge of the continental shelf in the Florida Keys, the area around Boca Grande on the Gulf coast of Florida, and just off Cape Canaveral on the Atlantic coast. These results will prove valuable to ongoing efforts by the Smalltooth Sawfish Recovery Implementation Team (http://www.sawfishrecovery.org/) to promote recovery of this endangered species.
*This research was conducted under Endangered Species Permit nos. 15802, 17787, and 22078 issued by NOAA Fisheries.
Check out this highlight on Graham's research in The New York Times!
Read the full paper here