Dr. Sandra Brooke, FSUCML Research Faculty, recently ventured to Yokohama, Japan, where she attended a workshop at the Japan Agency for Marine-Earth Science and Technology (JAMSTEC). JAMSTEC's objective is to contribute to the advancement of academic research in addition to the improvement of marine science and technology.
JAMSTEC called for proposals for large scale research projects that required at least 100 days at sea, with JAMSTEC providing the research vessel and underwater vehicles. Dr. Brooke was one of the finalists and was invited to Japan for a workshop to present her research and help generate a series of cruise plans, from which one will be selected for funding. Dr. Brooke's research focused on newly-discovered cold seeps in the northern Atlantic; however the consensus decision was that the final cruise plan would be located in the Indian or Pacific oceans so her proposal could not be included. However, she was presented with another exciting opportunity.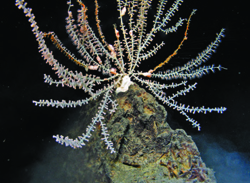 One of the finalists offered Dr. Brooke an opportunity to collaborate on a proposal in the southern-central Pacific Ocean, which would generate baseline data for assessing impacts of deep-sea hydrothermal vent mining. Deep sea mining is a developing industry for harvesting precious metals from hydrothermal vents and other deep-sea ecosystems. While the vent systems themselves have been well-studied, very little attention has been given to the surrounding hard substrate. Dr. Brooke would be involved with surveying and characterizing habitats and communities, including corals and sponges, found in the areas away from the vents. This proposal could play a vital role in examining the habitats and communities that would potentially be affected by this industry.
Stay tuned as we find out more about this project in the coming year.