These three Ph.D. candidates all successfully defended their dissertations and graduated during FSU's 2021 summer commencement!  All of us at the Marine Lab are so proud of the accomplishments of these standout scholars and we are thrilled to watch them fledge to grow even more in their chosen professions. So where are they headed now?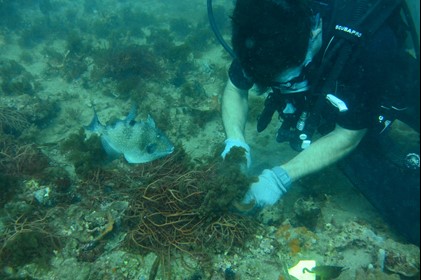 Kevin Olsen (BS and MSc, University of North Florida ) started his Ph.D. program in the Ecology and Evolution group in FSU's Department of Biological Science under the advisement of Dr. Don Levitan. Intrigued by recent genetic evidence suggesting that inbreeding is common among marine invertebrates, Dr. Olsen set out to find answers as to why this may be. Through his dissertation "Ecological and evolutionary dynamics of inbreeding and outbreeding in a spermcasting invertebrate," he studied a colonial sea squirt (Lissoclinum verrilli) to address the causes of inbreeding in this group. Unlike many terrestrial animals, he found that this species does not avoid inbreeding, but instead mates with close relatives when they are nearby. This tolerance to inbreeding in combination with dispersal patterns helps to explain why inbreeding is more common than expected in marine invertebrates.  His favorite FSUCML memory is diving in the Gulf of Mexico on glassy days, which he will sorely miss as he continues his career in California! He is very grateful and excited to be awarded a post-doctoral research fellowship in biology (PRFB) from the National Science Foundation to study inbreeding and outbreeding in marine invertebrates at the Scripps Institute of Oceanography in the University of California San Diego.
Johanna Imhoff (BS and MSc, University of North Carolina Wilmington) began her Ph.D. journey at FSU in the Ecology and Evolution group in FSU's Department of Biological Science while under the guidance of Dr. Dean Grubbs.  Her dissertation, "Mercury Contamination and its Relation to Trophic Ecology and Anthropogenic Pollution in Coastal and Deep Sea Shark Communities"  focuses on the trophic ecology of six species of sharks in the northern Gulf of Mexico, ranging from the continental shelf edge to the lower continental slope. Dr. Imhoff evaluated methylmercury contamination in these sharks relative to their trophic ecology, habitat, and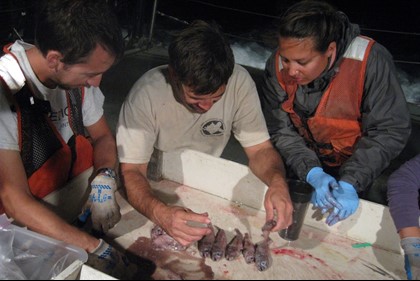 proximity to the 2010 Deepwater Horizon oil spill. Her favorite memory at FSUCML is returning from a deep sea cruise with the Grubbs lab and seeing the FSUCML staff waiting on the dock to welcome them home.  Dr. Imhoff will be staying in the area as she continues her career in the FSU Department of Biological Science as the Faculty Coordinator for general biology courses for non-majors. 
Cheston Peterson (BS, University of North Carolina Wilmington) obtained both his master's and Ph.D. in the Ecology and Evolution group in FSU's Department of Biological Sciences under the advisement of Dr. Dean Grubbs. For his dissertation, "Migration, habitat use, and predator-prey dynamics of coastal sharks in the northeast Gulf of Mexico," Dr. Peterson used long-term fishery-independent surveys and acoustic telemetry to study the abiotic drivers of migration (e.g. temperature and photoperiod) in coastal sharks, as well as the roles of prey density and predation risk in habitat use of sharks in Apalachicola Bay, Florida. He found that migration is driven by a combination of temperature and photoperiod, and the relative importance of prey availability and predation risk differs among species and may vary over the phases of life.  One of his favorite memories at FSUCML was obtaining a young-of-year finetooth shark (Carcharhinus isodon) for the lab's Zoological collection. What made this specimen so special was the fact that his advisor, Dr. Grubbs, a researcher well-versed in the world of elasmobranchs, had never encountered one before. Seeing Dr. Grubbs elated and surprised to see that life stage of the species made it such a memorable moment.  As for his future plans, Dr. Peterson will be staying at the FSUCML and taking on a post-doctoral/research position with the Apalachicola Bay System Initiative (ABSI) to work with estuarine teleosts (bony fishes) and publish his dissertation.